Implant Dentures – Colleyville, TX
A Better Kind of Denture
When all of the teeth need to be removed or are already missing, patients have three treatment options: 1) Traditional Complete Denture, 2) Removable Implant Denture, or 3) Permanent Full-arch Implant Bridge. Traditionally, complete dentures or "dentures" were the only options available to replace missing teeth. The upper denture is tolerated well by most patients because a "suction-like" effect can be achieved by covering the roof of the mouth. However, this can be uncomfortable for most patients and can cause changes in speech. The lower denture causes patients all kinds of trouble. Since it rests on the gums and is held in place by the lips, cheeks, and tongue, it can be displaced very easily when one speaks, eats or swallows. This can be very frustrating to both the patient and the treating dentist. To improve the retention and stability of traditional dentures, most patients use denture glues or adhesives to help hold them in place. With dental implants, the complications associated with traditional dentures have been addressed because they "snap" onto the dental implants, which allow patients to eat, speak and sing without the fear of their "teeth" coming loose.
Why Choose DFW Dental Implant Center for Implant Dentures?
Multiple denture options that are suited for any patient
Dentist with years of prosthodontic training
All prosthetics made by our on-site lab
What are the Benefits of an Implant Denture?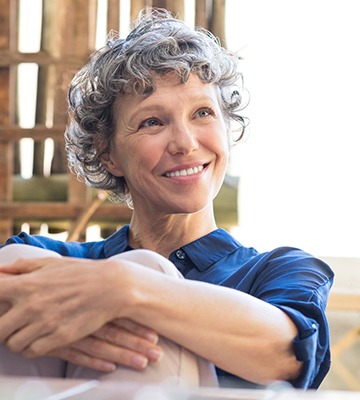 Increased retention and stability of the denture
Improved chewing efficiency
Improved speech
Improved taste sensation
Improved self-esteem
No palatal coverage
Easy to clean
More comfortable
Stronger (Titanium-Reinforced)
What Can You Expect During Dental Implant Treatment?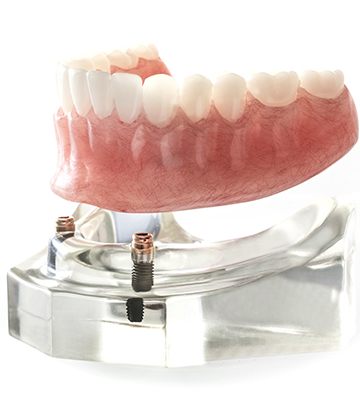 Step 1: Determine the Position of the Dental Implants on the Digital Treatment Planning Software
After reviewing your 3D CAT scan to evaluate the amount of bone and the number of dental implants that can be placed, a surgical guide will be made based on the denture tooth setup. This will allow the dental implants to be positioned correctly underneath the denture teeth for an ideal result.
Step 2: Place the Dental Implant Using A Surgical Guide and Deliver Temporary Dentures
The surgical guide will be used to place between two and four dental implants in the jawbone depending on the treatment plan. After the surgery is completed, temporary dentures will be lined with a soft material for added comfort. The soft reline will also improve the fit of the temporary dentures and prevent excessive pressure on the dental implants as they heal.
Step 3: Deliver Your New Implant Dentures
After 4 months of healing, a final impression of the dental implants and gums will be made to begin making the implant denture. After the dentures have been made, the implant dentures will "snap" on to the dental implants providing a stable, retentive denture with natural looking denture teeth.