Full Arch Implant Bridges – Colleyville, TX
Bring Back Your Smile For Life
A full-arch implant bridge is a relatively new option when compared to a traditional complete denture or an implant denture. This technology has been around for over a decade, but with the advances in digital dentistry, 3D printing, and improved accuracy of milling machines, this treatment modality has become increasingly popular. The concept is similar to the All-On-4® treatment concept where the prosthesis is permanently secured to the dental implants and cannot be removed by the patient. However, the main differences between these two options are the number of dental implants placed (4 to 6 dental implants vs. 4 dental implants with the All-On-4® prosthesis) and the angulation of these implants (all dental implants are placed parallel to each other vs. 2 parallel implants and 2 angled implants with the All-On-4® prosthesis).
Why Choose DFW Dental Implant Center for Full Arch Implant Bridges?
Able to replace an entire row of teeth with just 4 implants
Dentist has undergone extensive prosthodontic training
State-of-the-art facility that includes on-site dental lab
What are the Benefits of a Full-Arch Implant Bridge?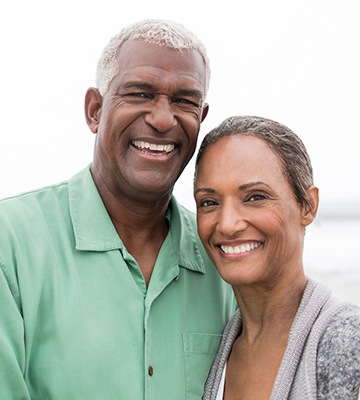 Permanently secured to the dental implants
Functions like natural teeth
Improved chewing efficiency, taste sensation, and speech over removable treatment options
Improved self-esteem and self-confidence
No palatal coverage
More comfortable than traditional complete dentures
Stronger (Titanium or Zirconia Substructure)
What Can You Expect During Dental Implant Treatment?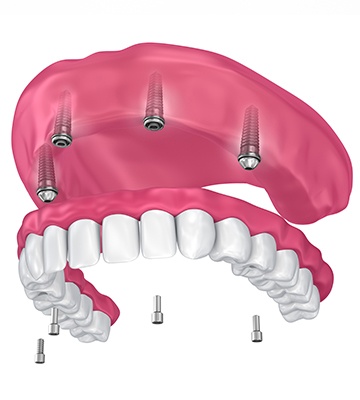 Step 1: Determine the Position of the Dental Implants on the Digital Treatment Planning Software
After reviewing your 3D CAT scan to evaluate the amount of bone, the location of the dental implants will be planned in the digital treatment planning software based on either your remaining natural teeth or a new denture tooth setup. This will allow the dental implants to be positioned underneath your new teeth for a natural appearance.
Step 2: Place Dental Implants Using A Surgical Guide and Attach Full-Arch (Fixed) Temporary Bridge
A surgical guide will be used to place four to six dental implants according to the digital treatment plan. Depending on the initial stability of the dental implants, either a fixed (non-removable) full-arch temporary implant bridge will be attached directly to the dental implants or a temporary denture (removable) will be delivered. The decision on whether the temporary bridge is fixed or removable depends on the initial stability of the dental implants, the bone quality and quantity, the biting force that may be applied to the dental implants as they heal, any history of grinding or clenching, and the overall health of the patient. In all cases, you will leave with temporary teeth on the day of surgery.
Step 3: Deliver Your New Full-Arch Implant Bridge
After 4 months of healing, the permanent full-arch implant bridge will be secured directly to the dental implants and will function and look like natural teeth.
Patient Example
A male patient visited The DFW Dental Implant Center for a comprehensive evaluation. After clinical and radiographic examination, he was diagnosed with cavities, severe gum disease, and numerous tooth infections. He wanted something that was permanent and would look natural. He wanted to keep the space between his upper front teeth.

BEFORE: Left: Clinical view of smile when he presented to The DFW Dental Implant Center; Right: Baseline Panoramic x-ray
He was treated with upper and lower full-arch implant bridges that were supported by six dental implants. The final prostheses were made of porcelain and gold for strength and durability. As requested, a small space was created between his upper front teeth for a natural look.

AFTER: Clinical view of a smile after the full-arch implant bridges were permanently attached to the dental implants