Teeth Whitening – Colleyville, TX
Brighter Smiles the Easy Way
Want to blast away stubborn stains, revealing a bright, beautiful smile? Professional teeth whitening is preferred to over-the-counter (OTC) teeth whitening systems because it is performed under the supervision of a skilled cosmetic dentist. This is important because ill-fitting whitening trays can allow the gel to leak out from underneath the tray, which will irritate the gums and can lead to permanent gingival recession. If you'd like to learn more about teeth whitening in Colleyville, then get in touch with our team or read on!
Why Choose DFW Dental Implant Center for Teeth Whitening?
Both in-office & take-home treatments available
Able to remove deep stains caused by coffee, wine, tea, & tobacco
Can make your teeth 6-8 shades brighter in as little as an hour
Who Is a Good Candidate for Teeth Whitening?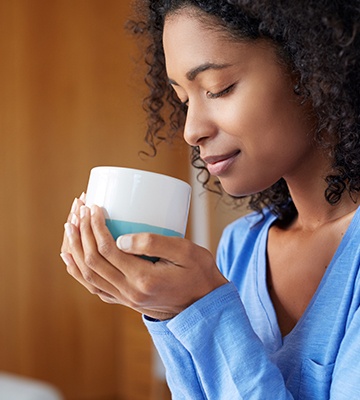 If you're unhappy with your smile because your teeth have begun to look yellow and discolored, then it's worth scheduling an appointment with our team at DFW Dental Implant Center. During your personal consultation, our Colleyville cosmetic dentist can learn about your concerns and confirm your candidacy. Luckily, even if you aren't initially a candidate due to an existing oral health concern (like tooth decay), we can help. After administering the appropriate restorative treatment, we'll schedule your teeth whitening appointment!
How Does Teeth Whitening Work?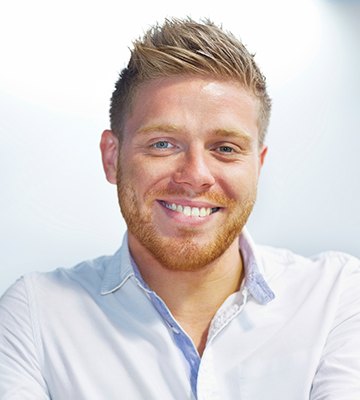 Teeth whitening remains one of the most economical ways to enhance your smile. A brighter smile gives the impression of youth, vitality, happiness, and warmth. It is often perceived as a sign of health and is one of the first things that people notice when they meet. At The DFW Dental Implant Center, we offer both in-office and take-home teeth whitening treatments, which are usually used in tandem.
In-Office Teeth Whitening
Our professional teeth whitening program starts with a 1-hour in-office treatment. During this visit, the gums are blocked out with a special material to limit irritation. Then, three whitening sessions are performed to achieve brighter teeth. At the end of your appointment, you'll be given custom-made whitening trays to continue using at-home.
Take-Home Teeth Whitening
After your in-office treatment, you'll begin supervised at-home treatments for up to 3 weeks. The personalized trays you receive should be worn for about 30 to 60 minutes per day until the desired color you are looking for is achieved. This will help prolong the lifespan of your results, keeping your bright, white teeth in pristine condition.
Tips for Maintaining Your Brighter Smile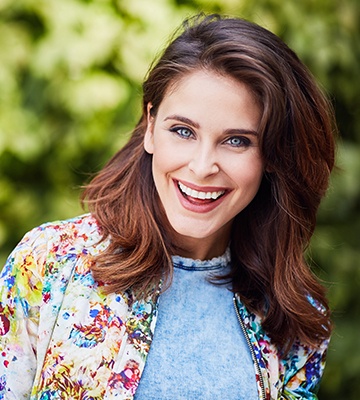 To maintain your beautiful results, it's of the utmost importance that you:
Brush your teeth after every meal
Floss and rinse with mouthwash daily
Get a professional cleaning every six months
Quit unhealthy dental habits, like smoking
Limit your intake of dark-colored ingredients, like soy sauce
Use a straw when drinking pigmented beverages, such as coffee
Get touch-up treatments as needed
Understanding the Cost of Teeth Whitening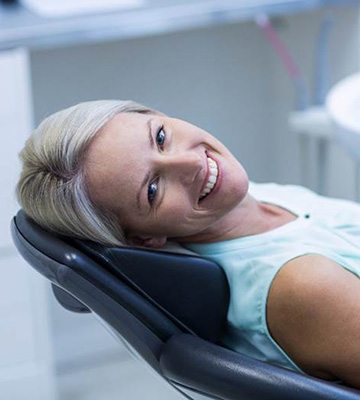 Like most cosmetic treatments, teeth whitening usually isn't covered under dental insurance. As such, it's important to have a firm grasp on how much you can expect the treatment to cost before you commit to anything. Our team will be happy to put together an estimate for you based on your situation, and we can help you figure out the best strategy for making your smile transformation affordable. Below is a brief overview of what you should know about figuring out the cost of teeth whitening.
Factors That Affect the Cost of Teeth Whitening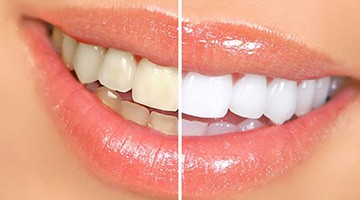 Most practices usually have a set price for a single whitening treatment. However, some people will need more than one whitening session to get the result they want, and that changes how much they end up paying. Some of the factors that can change the number of treatments you need include:
The severity of the stains or discoloration that you want to correct.
What caused the discoloration in the first place.
Whether the stain is above or below the surface of the enamel.
Also, if you have any oral health issues, they will need to be treated before teeth whitening can be performed. This can add to your overall dental costs, so keep that in mind during your initial consultation.
Types of Teeth Whitening: What Do They Cost?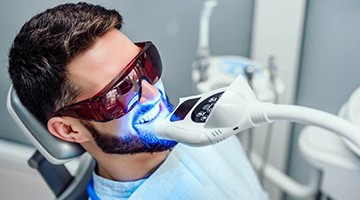 The cost of in-office whitening varies from practice to practice, but it's typically in the range of $400 to $800. Custom take-home whitening kits, by comparison, usually only cost a few hundred dollars. As for "over-the-counter" options, store-bought whitening trays are usually around $100 or less, and whitening strips will usually cost between $20 and $40.
Inexpensive Teeth Whitening vs. Professional Teeth Whitening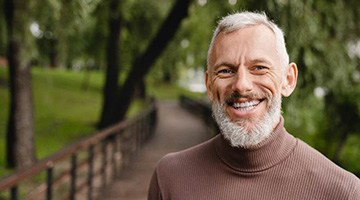 Looking at the numbers above, over-the-counter whitening costs much less on average than professional whitening. The trade-off, though, is that over-the-counter whitening usually produces lower-quality results. The ingredients in these products can't penetrate the teeth, so they can't do anything about discoloration below the enamel. They also tend to take months to produce the results you want, if at all.
Meanwhile, professional whitening can be used to address all kinds of discoloration, and it can be completed in a much shorter timeframe. (One visit for in-office whitening, two weeks for professional whitening kits.) In short, you get what you pay for when it comes to whitening, and the more costly options are often worth it when it comes to the results they can produce.
Options for Making Teeth Whitening Affordable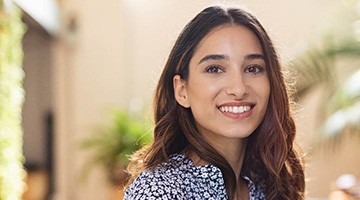 As mentioned above, most dental insurance plans don't include coverage for whitening. However, you can use third-party financing to break up the cost of a whitening treatment so that it puts less of a strain on your budget. Our practice works with CareCredit and LendingClub, two long-trusted third-party financers that offer a wide variety of plans. If you're interested in financing, let our team know so that they can walk you through the steps.
Teeth Whitening FAQs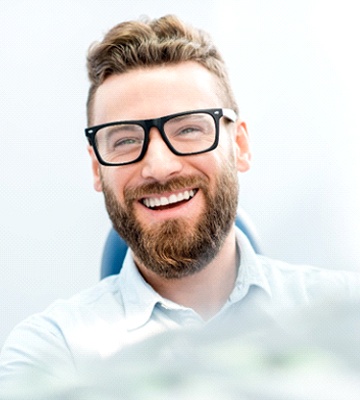 If you don't like the color of your smile, you may be thinking about investing in professional teeth whitening in Colleyville. Before committing to the process, you likely have several questions in mind. At DFW Dental Implant Center, we want you to be well-informed and confident in your decision to improve your smile with this cosmetic service. That's why we've decided to answer some frequently asked questions below! Should you not find the answers you're looking for, feel free to contact our office for personal assistance.
Does Teeth Whitening Hurt?
Many people are hesitant to move forward with dental treatments because they're worried it'll be painful. However, professional teeth whitening in Colleyville shouldn't hurt at all! Since your treatment is tailored to your smile, you're much less likely to experience tooth sensitivity. Our team will do everything possible to ensure you have a comfortable experience. To avoid the unpleasant sensation, you may have to space out your treatments or use specialty toothpaste.
How Long Does Teeth Whitening Treatment Take?
Teeth whitening is not only an effective treatment, but it's an incredibly fast process. We can make your smile several shades brighter with just a single in-office session. Meanwhile, take-home whitening kits can gradually lighten your teeth over the course of a couple of weeks. This cosmetic service is ideal for patients who want to improve their grins quickly for an upcoming event or celebration.
Is Teeth Whitening Permanent?
No, but your results can last anywhere between a couple of months to a few years depending on how well you take care of your teeth. You preserve your hard-earned results by practicing good oral hygiene, visiting your dentist regularly, and avoiding poor dental habits (i.e., smoking, using tobacco, biting fingernails, and using teeth as tools). Ask your cosmetic dentist about touch-up treatments to keep your smile in optimal condition for as long as possible.
Is Teeth Whitening Safe?
Absolutely! Professional teeth whitening in Colleyville is extremely safe because it's administered by a licensed professional. Each treatment is tailored to your unique smile to ensure the solution doesn't spread to your gums or accidentally get ingested. Be wary of over-the-counter whitening products that aren't approved by the FDA and ADA because they haven't undergone rigorous testing. As a result, they could potentially cause harm in the short and long term.