Complete Dentures – Colleyville, TX
Enjoy a Full & Confident Smile Again
Traditional Complete Dentures, also known as full dentures or plates, are dental prostheses that are used to replace all teeth in either the upper or lower jaw. Unlike teeth, which are attached directly to the bone, dentures rest on your gums and stay in place through a "suction-like" effect. This suction is created by a seal made between the denture and your lips, cheeks, and palate in the upper jaw, and your lips, cheeks, tongue, and the floor of your mouth in the lower jaw. Since the roof of your mouth is flat and does not move, upper dentures commonly have good retention. However, due to the mobility of your tongue and the floor of your mouth when speaking, eating, and swallowing, lower dentures can more easily come loose. For this reason, dental implants are highly recommended in the lower jaw to increase the retention of your lower complete denture.
Why Choose DFW Dental Implant Center for Complete Dentures?
Custom-made for every patient using the most advanced materials
Designed to look natural & last a lifetime
Both traditional & implant-retained dentures available
Advantages of Dentures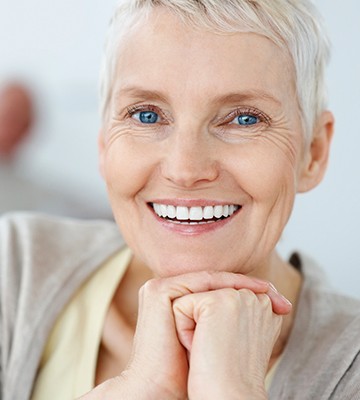 Replace ALL missing teeth for a single fee
More affordable than an implant denture or full-arch implant bridge
Shorter treatment time
Easy to clean
Esthetic
Disadvantages of Dentures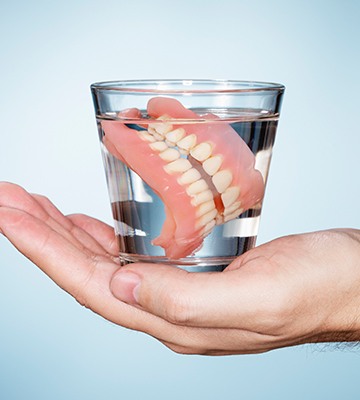 Removable
Lower denture can easily be dislodged when you speak, eat or swallow
Upper denture is held in place through a "suction-like" effect, which can be broken when you yawn or sing
Eating is a learned technique and can be difficult initially
Speech can be affected
What Can You Expect During Restorative Dental Treatment?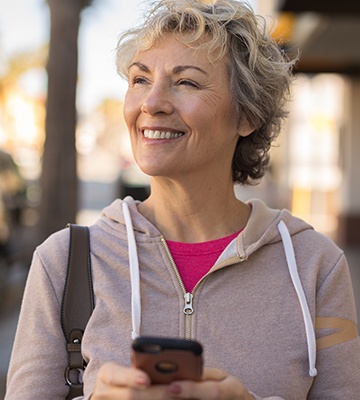 Step 1: Final Impression
A final impression is made using a custom impression tray designed specifically for your mouth. The borders of the tray are molded to match the movement of your lips, cheeks, and tongue to help prevent the dentures from being too long and coming loose when you speak, eat or swallow. The more accurate the impressions, the better your complete dentures will fit.
Step 2: Wax Try In
Plastic bases with wax blocks are tried in to record the bite and to make specific measurements of your mouth. The color, size, and shape of the denture teeth are also chosen.
Step 3: Esthetic Evaluation
The denture teeth have been set in the wax so you can evaluate your smile, speech, and bite. This allows us to make any necessary changes to the denture teeth before processing. After the setup of the denture teeth has been approved, the complete dentures are finished.
Step 4: Deliver Your New Complete Dentures
The complete dentures are tried in and the smile, speech, bite and overall fit are evaluated. The complete dentures adjusted to relieve any pressure areas and to finalize the bite so it feels even.