Meet Your Trusted Colleyville Dental Team
The right dental team can make all the difference for a patient's experience, which is why Dr. Branberg has personally selected a group of warm, friendly, and highly-motivated individuals who come together every day to deliver 5-star service. Behind their smiles lies years of dental knowledge and skill, ensuring that when you come to see us, you're guaranteed to have a stress-free and fulfilling appointment. They can't wait to meet you, and you can start getting to know them by reading on below.
Arleen, Office Manager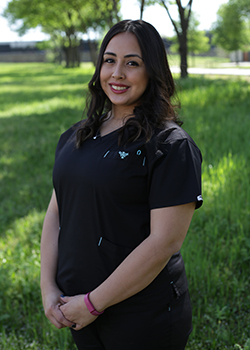 Arleen's career in the dental field covers almost a decade now, and she still loves seeing the pure joy on patients' faces every day after their smile has been restored! Originally from the El Paso area, she earned her education from El Paso Community College.
Outside of work, Arleen is married to her best friend and has a son, a daughter, and three fury babies. She spends her free time with her family, as well as playing volleyball and basketball. She also enjoys running and even completed a half marathon in 2018!
Maureen ("Mo"), Registered Dental Hygienist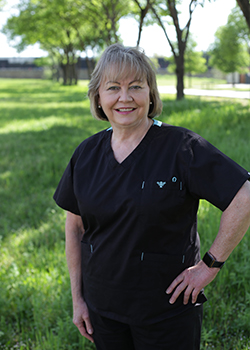 Maureen's career in the dental field spans nearly 50 years so far! She has spent an extensive amount of time working as both an assistant and a hygienist after studying at Tarrant County College. Today, she loves working closely with the other DFW Dental Implant Center team members and caring for such wonderful patients.
Originally from Ohio, Maureen has three daughters and three grand dogs. Her personal hobbies include traveling to new places and collecting wine. She also likes cooking – before going to school for dentistry, she actually completed a degree in culinary arts!
Pat, Registered Dental Assistant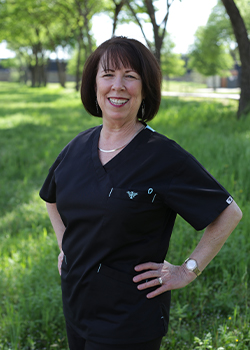 Pat hails from New York, and she studied at Alfred State University. She is certified in coronal polishing and CPR. Today, her career in the oral healthcare field spans nearly 35 years, and she never gets tired of getting to talk to very interesting patients about their travels and life experiences while they're in the treatment chair. Seeing the "before" and "after" results of their brand-new smiles is amazing as well!
Pat is the middle child of six siblings and has been married to her husband John since 2016. She spends her free time outside of the dental office painting, gardening, walking, trying new cuisines, traveling, and fishing.
Jose, Dental Assistant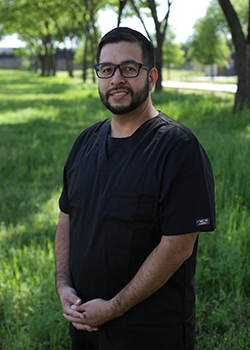 Jose is originally from El Paso, and his career in the dental field covers almost a full decade now. He studied dental assisting at Vista College and is also trained in nitrous oxide and oral conscious sedation. Today, what he enjoys most about his position is seeing the patients smile so brightly after their treatment is finished!
At home, Jose and his wife have two children and three dogs. He spends lots of quality time with his family outside of the dental office and also enjoys working out whenever he gets a chance.
Luis, Dental Laboratory Technician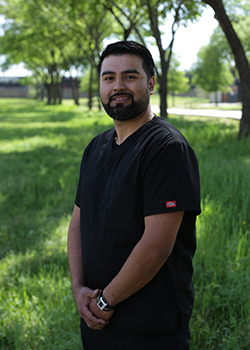 Luis studied at Brookhaven College and Concord Technical. In addition to his expertise as a laboratory technician, he is also a dental assistant and certified in CPR. His favorite part of this work is that there's always something different to do every day! He enjoys working closely with Dr. Branberg to ensure that each patient receives restorative solutions that are attractive, customized, and high in quality.
Luis is proud to be a Dallas native (home of the Cowboys!) and has a loving, united family. His hobbies outside of working hours include biking, kayaking, doing arts and crafts, camping outdoors, keeping up with sports, and spending time in nature. He also loves anything to do with cars and trucks.