Implant Bridges – Colleyville, TX
Restore Your Confidence & Bite at the Same Time
When multiple teeth need to be extracted or are already missing, replacing these teeth with an implant bridge is the BEST option. The implant bridge will look and function like your natural teeth. Since the dental implants are made of titanium and the implant bridge is a combination of zirconia and porcelain, it will not decay like your natural teeth. Unlike a metal-based removable partial denture (RPD), the implant bridge is attached directly to two or more dental implants, so you do not have to worry about it falling out when you are speaking or moving around when you are eating. The implant bridge will also improve the support to your lips and cheeks, which can give you a more youthful appearance.
Why Choose DFW Dental Implant Center for Implant Bridges?
Computer-guided treatment planning guarantees success
Expert dentist with special prosthodontic training
Dental implant placement & restoration all performed in-house
What are the Benefits of an Implant Bridge?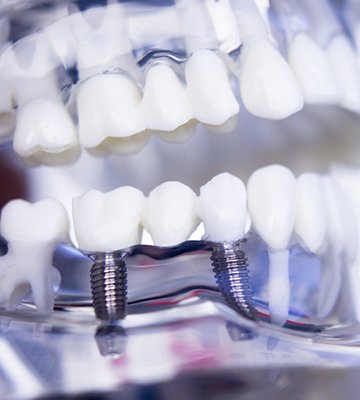 Permanent, Not Removable
Do Not Decay (Cavities)
Improve Appearance
Increase Chewing Efficiency
Strengthens Remaining Natural Teeth
Preserves Bone
What Can I Expect During Dental Implant Treatment?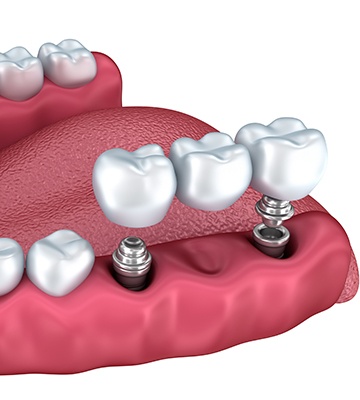 Step 1: Determine the Position of the Dental Implants on the Digital Treatment Planning Software
After reviewing your 3D CAT scan to evaluate the amount of bone at the future dental implant sites, the exact position of the dental implants and bridge with be planned on the digital treatment planning software. This will allow for a more predictable result when compared to traditional treatment planning methods.
Step 2: Place the Dental Implant Using A Surgical Guide and Deliver Temporary Teeth
A surgical guide will be fabricated using the information obtained from the digital treatment planning software and a diagnostic wax-up of your new teeth to aid in the correct placement of the dental implants. After the surgery is completed, a temporary bridge will be either attached directly to the dental implants or a flipper will be delivered to replace the missing teeth. In either case, you will leave our dental office with temporary teeth!!
Step 3: Deliver Your New Implant Bridge
After 3 to 4 months of healing, the permanent porcelain-zirconia implant bridge will be secured directly to the dental implants and will function and look like natural teeth.
Patient Example

The lower front teeth had severe wear from night-time teeth grinding. As a result, the teeth were very short and could not be saved. The six teeth were extracted and 2 dental implants were placed to support a 6-unit implant bridge.