Dental Implants — Colleyville, TX
Tooth Replacement for the 21st Century
Thanks to his prosthodontic training, Dr. Branberg knows a thing or two about replacing missing teeth, having rebuilt countless smiles over the course of his career. Whenever someone comes to see him wanting to replace their missing teeth, his first recommendation is always dental implants. Why? Because they simply offer the best of everything in a single treatment: unmatched aesthetics, supreme functionality, and sturdy construction that can last for decades. If you're ready to enjoy a full and confident smile again, dental implants are your best answer, and you can get them right here at The DFW Dental Implant Center. To learn more and schedule a one-on-one consultation, contact us today.
Why Choose The DFW Dental Implant Center For Dental Implants?
Entire Dental Implant Treatment Completed In-Office by Highly Experienced Dentist
State-of-the-Art Technology for Precise Planning & Long-Lasting Results
All Restorations are Custom-Made By Our On-Site Dental Lab
What Are Dental Implants?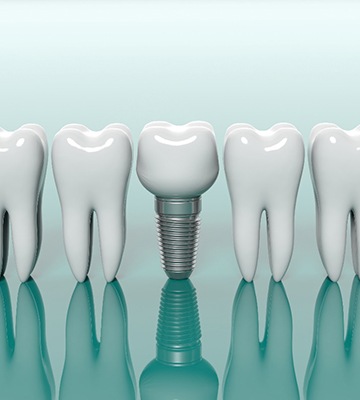 The reason dental implants are so special is that they are the only restoration that brings back an entire tooth both above and below the gumline. Compared to traditional tooth replacements, dental implants provide a stable foundation by replacing the missing roots and fusing directly to the jawbone. With dental implants, your replacement teeth are bonded securely, so you can enjoy a truly lifelike smile. This is why dental implants have become the gold standard in the dentistry field for missing or failing teeth.
Dental implants have three parts:
The Implant – A screw-like small titanium post that serves as an artificial root or base for replacement teeth. This is what permanently attaches to the jawbone.
The Abutment – This small connector piece sits on top of the dental implant and securely holds the final restoration in place in your smile.
The Final Restoration – Usually made of zirconia or porcelain for strength and aesthetics, this is the part of the tooth that is visible. Depending on how many teeth you're missing, this could be a crown, bridge, or denture.
The dental implant is inserted into pre-planned positions in the jawbone, where they integrate into the jawbone via a process called osseointegration. Once healed, the abutment is fastened on top, and finally, the restoration. This custom-made crown, bridge or denture will be crafted from impressions of your mouth and high-quality materials so that it blends in seamlessly with the rest of your smile. Because they fit, feel and function like natural teeth, dental implants are widely considered by dentists and patients alike to be the gold standard in tooth replacement.
The Dental Implant Process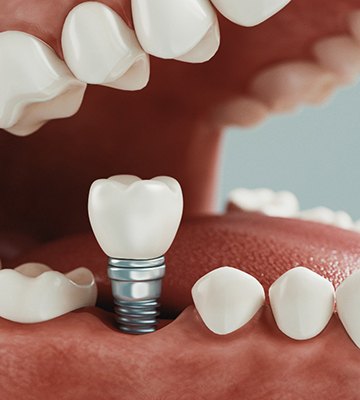 Unlike dentures or dental bridges, getting dental implants is a multi-step process that spans the course of several months. While this may seem like quite a while, it's this thorough and unique placement that ensures the results are comfortable and long-lasting. In fact, dental implants have the potential to last a lifetime! During your consultation, we'll walk you through your entire treatment plan step-by-step, but here are a few basic stages you can expect.
Initial Dental Implant Consultation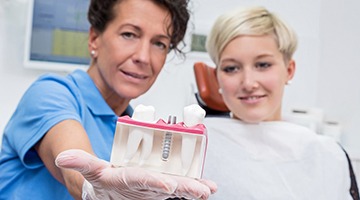 During your initial consultation, we'll discuss your tooth replacement goals, review your medical health, and inspect your oral health. If you are not immediately deemed to be a good candidate for dental implants, we can help you schedule preparatory procedures so you can become one. Once you've completed any necessary preliminary treatments, we'll look at your jawbone once again.
After reviewing your 3D CAT scan to evaluate the amount of bone at the future dental implant site, the exact position of the dental implant and crown will be planned on the digital treatment planning software. This will allow for a more predictable result when compared to traditional treatment planning methods.
Dental Implant Surgery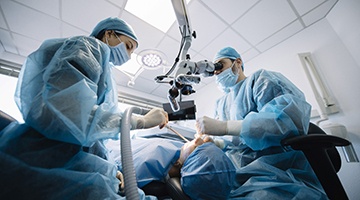 The dental implant will be placed according to the digital treatment plan and the neighboring teeth to ensure that the position is correct. A surgical guide will be fabricated using the information obtained from the digital treatment planning software and a diagnostic wax-up of your new teeth to aid in the correct placement. Once the surgery is completed, we will attach a temporary tooth (or teeth) to the dental implant and send you home to heal.
Dental Implant Osseointegration & Abutment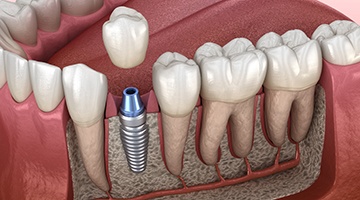 Over the next several months (anywhere between 4 and 6 depending on your bone tissue), your dental implant will slowly integrate with your jawbone. This process is called "osseointegration" and it's one of the most important phases of your tooth replacement. Not only does this keep the implant secured tightly in place, but it's what makes basic functions like chewing food feel natural. As you eat, the bone is stimulated by the prosthetic root. This also prevents the bone from breaking down over time.
Following the completion of this integration, you'll come back to our office to have the abutment attached. This connector provides a reliable foundation for the permanent restoration.
Delivery of Dental Implant Restoration(s)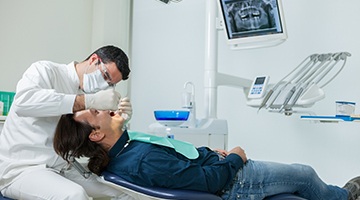 After the gum tissue has fully healed, your permanent, custom-made crown, bridge, or denture will be secured directly onto the dental implant and function just like a natural tooth. This restoration is customized to not only look incredibly natural, but also blend in with your nearby teeth (if present). That way, no one but you and our office will know you even had a dental implant placed! During the placement of your restoration, you are encouraged to let us know if you have any concerns about the feel or appearance of your tooth replacement. This allows us to perform modifications if necessary.
Benefits of Dental Implants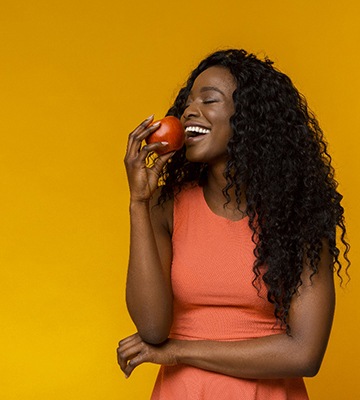 Dental implants are quickly becoming the most popular way to replace missing teeth, and it's easy to see why when you look at some of the benefits they can offer you:
Improved Appearance
Increased Chewing Efficiency
Strengthens Remaining Natural Teeth
Preserves Bone
Permanent, Not Removable
Do Not Decay (Cavities)
Who Dental Implants Can Help

Dental implants are a versatile tooth loss solution that can help you replace any number of missing teeth. What's more, most healthy adults with a strong jawbone are excellent candidates for dental implants. We'll help you navigate all your different treatment options and help you choose the one that best suites your needs and budget.
Missing 1 Tooth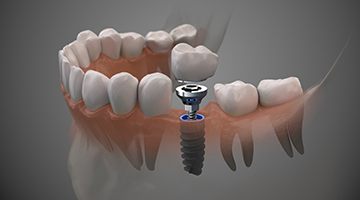 For patients missing just one tooth, an implant root and custom-made porcelain crown can be expertly fitted into the smile without affecting the surrounding teeth at all.
Missing Multiple Teeth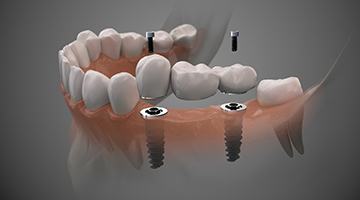 If you are missing more than one tooth and still have healthy adjacent gums and surrounding teeth, a short implant-retained bridge or partial denture can be placed to preserve the other natural teeth.
Missing All Teeth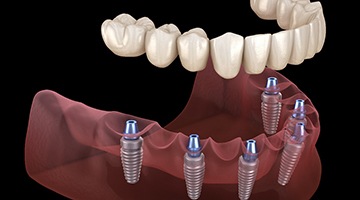 Patients who need to replace all their teeth in an upper and/or lower jaw have several treatment options at The DFW Dental Implant Center, each of which offer their own unique benefits and advantages. We'll take the time to fully explain all your treatment options during your consultation, but you can learn more about our full-mouth dental implant services below:
Implant dentures: Are you missing most of your teeth, or are you sick and tired of dealing with a denture that just won't stay in place? If so, dental implants can help you finally have a set of teeth you can trust. Rather than replacing each tooth individually with implants, just two to four implants can anchor a full denture directly to the jawbone. Because of this strong foundation, patients don't have to worry about annoying slippage whenever they are eating or speaking.
Learn More About Implant Dentures
The All-on-4 procedure: This unique treatment enables Dr. Branberg to restore an entire arch of teeth using just four strategically placed implants. Two are located towards the front of the jawbone where it is naturally thicker, and two more are positioned towards the back of the mouth at a slight angle to ensure maximum retention. A custom-made bridge is permanently secured to them. In just one appointment, a patient can walk out with a reliable temporary prosthetic, and after a few months, receive their permanent denture.
Learn More About The All-On-4 Procedure
Full-Arch Implant Bridges: This procedure involves permanently securing a dental prosthetic replacing all teeth to the jawbone using four to six implants. Similar to the All-on-4 procedure outlined above, this approach not only uses more implants for strength and durability, but they are also positioned differently. With All-on-4, half of the implants are placed at an angle to eliminate the need for additional bone grafting. With a full-arch bridge, however, the implants are placed at the same angle due to more available bone. Either approach gives our patient a strong, reliable, permanent option to replace their teeth.
Learn More About Full-Arch Implant Bridges
Teeth in a Day: The teeth in a day procedure takes a similar approach to that of the All-On-4 procedure. It's designed specifically to streamline the tooth replacement process to dramatically reduce the time needed to complete your smile. In fact, you'll likely leave your dental implant surgery with a beautiful temporary denture so you'll never be without teeth. Typically, we'll be able to perform any necessary tooth extractions, place the dental implants, then attach a pre-made custom denture that you can begin enjoying right away.
Learn More About Teeth in a Day
Mini Implants: Dental implants require a patient to have a thick and strong jawbone in order to adequately support the new prosthetic roots. However, for patients who have been missing teeth for a long time, their jaw is often too thin or brittle to do so safely. That's where mini implants can help. Shorter and thinner than regular implant roots, they can be placed into weaker jawbones and still provide a firm hold for a new denture that outclasses a traditional removable prosthetic. Also, thanks to their reduced size, the time needed to get them and heal from the procedure are usually much shorter compared to regular implants as well.
Understanding the Cost of Dental Implants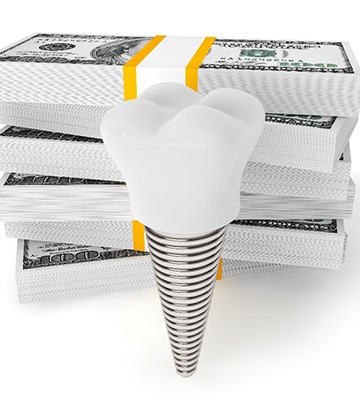 Hands down, the dental implant process is the most effective way for replacing your missing teeth, but in order to proceed comfortably, you need to have as much information about the procedure as possible. This includes gaining an understanding of the cost structure. Read on to get the details you need. Continue reading to gain an understanding of how we arrive at the final dental implant cost.
The Phases of Dental Implant Treatment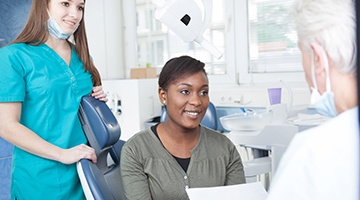 There are a number of factors that influence the cost of dental implant insertion:
Preparatory work– If you require a bone graft, gum disease treatment or an extraction, it will have an effect on the overall cost of the implant procedure.
The implant placement– The cost of the implant surgery will mainly depend on the number of implants that you need.
Implant abutments– In some situations, the abutments (components that anchor the implant to the restoration) can be placed at the same time as the implants. This can provide a cost savings. If it must be placed later, a separate surgery will be required.
The restoration– The size and nature of the restoration, as well as the materials used to create it, will be a major contributor to the overall cost.
Are Dental Implants Worth the Investment?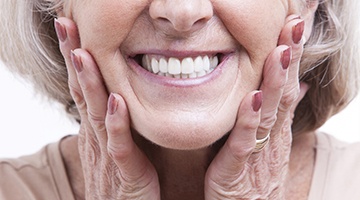 When considering the value of dental implant placement, two factors should be taken into account: its effectiveness and longevity. Dental implants stand in a class of their own because they attach at the root level, something no other form of tooth replacement does. Thus, you can look forward to a reinvigorated life, the maximum jawbone support, heightened confidence, and the ability to eat many of the foods you previously had to give up. Then, given the fact that, with proper care, implants can last up to a lifetime, it's for sure a worthwhile investment.
Does My Dental Insurance Cover Dental Implants?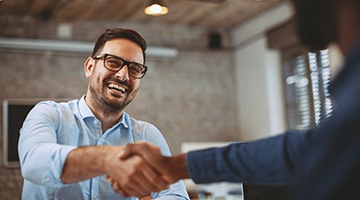 Typically, dental insurance will only cover, at best, a portion of the actual dental implant surgery. However, all plans differ, so you'll need to consult the guidelines of yours to know for sure. This is something that one of our office staff members will be glad to help you with during the planning phase.
If you're in need of restorative care before undergoing the dental implant process, you can typically count on your insurance to provide some coverage. Usually, it will be around 50-70% of the cost of the procedure, after the deductible has been met.
For our more cost-sensitive patients, we have partnered with CareCredit and LendingClub. We're also pleased to offer free, no-obligation dental implant consultations and our $3,800 dental implant special, which includes CBCT scan, the implant, the abutment, and a crown.
Advanced Dental Implant Procedures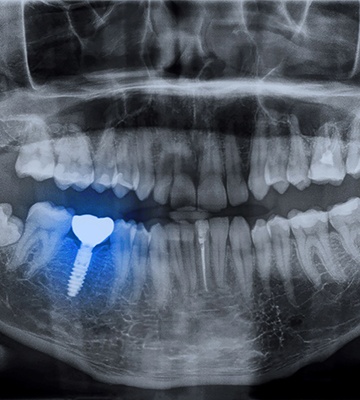 If your jawbone is currently too weak or small to support dental implants, that doesn't mean you can never get them! We offer advanced dental implant procedures to help practically anyone become a good candidate for dental implants Unlike with other dentists in the area, Dr. Branberg is able to perform these procedures himself so patients in need don't have to visit an outside specialist. Using bone harvested from the patient themselves, donated bone, or a lab-made grafting material, Dr. Branberg can take a patient who would normally not be a good candidate for implants and give them everything they need to rebuild their smile for a lifetime.
Bone Grafting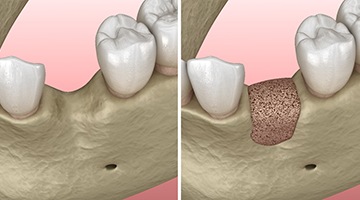 At the DFW Dental Implant Center, Dr. Branberg begins every case with a comprehensive examination and 3D CAT scan to evaluate the amount of bone at the future dental implant site. After planning the exact location of the dental implant and crown on the digital treatment planning software, he knows before the surgery begins whether a bone graft is needed or not. This makes treatment more predictable and improves the final outcome.
In many cases, the bone graft can be performed at the same visit that the dental implant is placed. This is advantageous because it shortens treatment time and eliminates the need for a second surgery. However, when the bone loss is extensive, a bone graft will need to be performed before the dental implant can be placed. If this is the case, the treatment can be delayed 4 to 9 months depending on the size of the bony defect and the type of bone graft used. When a dental implant is placed into a grafted site, we typically wait 4 to 6 months before applying any biting force on the dental implant to allow additional time for the bone graft to mature and the implant to integrate with the new bone.
Dental Implant Salvage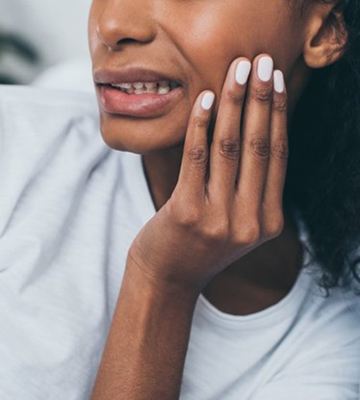 Did your dental implants not take the first time? It's rare for the procedure to fail, but in some cases the implant post might not join with the jawbone due to a health issue or placement error. In these cases, we can perform a dental implant salvage process to address the underlying problem. Most of the time, we can reattempt dental implant placement once your condition has been treated and your mouth has fully healed.