Dental Implants – Colleyville, TX
Tooth Replacement for the 21st Century
Thanks to his prosthodontic training, Dr. Branberg knows a thing or two about replacing missing teeth, having rebuilt countless smiles over the course of his career. Whenever someone comes to see him wanting to replace their missing teeth, his first recommendation is always dental implants. Why? Because they simply offer the best of everything in a single treatment: unmatched aesthetics, supreme functionality, and sturdy construction that can last for decades. If you're ready to enjoy a full and confident smile again, dental implants are your best answer, and you can get them right here at The DFW Dental Implant Center. To learn more and schedule a one-on-one consultation, contact us today.
Why Choose DFW Dental Implant Center for Implant Dentistry?
Dentist who has completed thousands of implant cases
All restorations made by our on-site lab
State-of-the-art technology used for treatment planning
Single Implant Crowns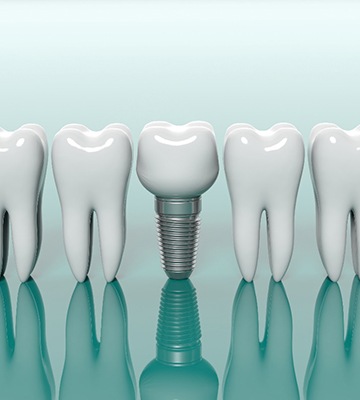 The reason dental implants are so special is that they are the only restoration that brings back an entire tooth both above and below the gum line. A small titanium post is surgically placed into the jaw, and this is used to support the new tooth/teeth. For patients missing just one tooth, an implant root and custom-made porcelain crown can be expertly fitted into the smile without affecting the surrounding teeth at all.
Learn About Single Implant Crowns
Implant Bridges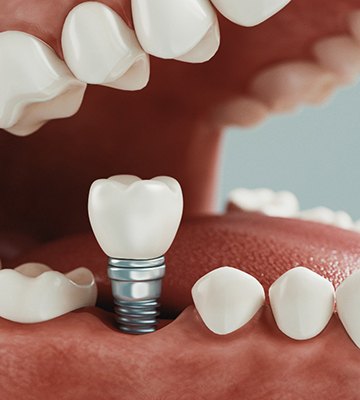 A bridge is a type of dental prosthetic that's used to replace multiple missing teeth in a row at the same time. Traditionally, they are held within the mouth using dental crowns placed on the teeth on either side of the absent ones. For patients who lack enough dental structure to support a regular bridge, however, an implant bridge is still a viable option. With this, the new teeth are secured using two implant roots, giving it a stability a normal bridge simply can't match.
Implant Dentures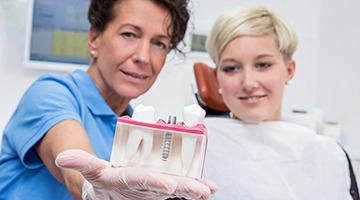 Are you missing most of your teeth, or are you sick and tired of dealing with a denture that just won't stay in place? If so, dental implants can help you finally have a set of teeth you can trust. Rather than replacing each tooth individually with implants, just two to four implants can anchor a full denture directly to the jawbone. Because of this strong foundation, patients don't have to worry about annoying slippage whenever they are eating or speaking.
All-on-4® Treatment Concept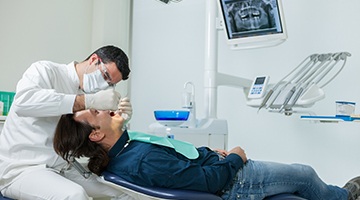 The All-on-4 procedure enables Dr. Branberg to restore an entire arch of teeth using just four strategically placed implants. Two are located towards the front of the jawbone where it is naturally thicker, and two more are positioned towards the back of the mouth at a slight angle to ensure maximum retention. A custom-made bridge is permanently secured to them. In just one appointment, a patient can walk out with a reliable temporary prosthetic, and after a few months, receive their permanent denture.
Full-Arch Implant Bridges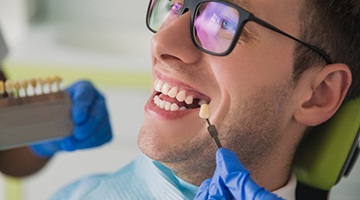 This procedure involves permanently securing a dental prosthetic replacing all teeth to the jawbone using four to six implants. Similar to the All-on-4 procedure outlined above, this approach not only uses more implants for strength and durability, but they are also positioned differently. With All-on-4, half of the implants are placed at an angle to eliminate the need for additional bone grafting. With a full-arch bridge, however, the implants are placed at the same angle due to more available bone. Either approach gives our patient a strong, reliable, permanent option to replace their teeth.
Learn About Full-Arch Implant Bridges
Mini-Implants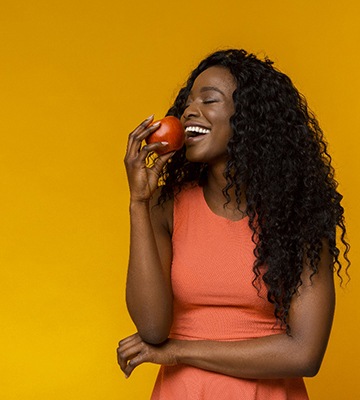 Dental implants require a patient to have a thick and strong jawbone in order to adequately support the new prosthetic roots. However, for patients who have been missing teeth for a long time, their jaw is often too thin or brittle to do so safely. That's where mini-implants can help. Shorter and thinner than regular implant roots, they can be placed into weaker jawbones and still provide a firm hold for a new denture that outclasses a traditional removable prosthetic. Also, thanks to their reduced size, the time needed to get them and heal from the procedure are usually much shorter compared to regular implants as well.
Bone Grafting

Bone grafting is a procedure in which an area of the jawbone is built up and thickened in order to improve its ability to hold a dental implant. Unlike with other dentists in the area, Dr. Branberg is able to perform this procedure himself so patients in need don't have to visit an outside specialist. Using bone harvested from the patient themselves, donated bone, or a lab-made grafting material, Dr. Branberg can take a patient who would normally not be a good candidate for implants and give them everything they need to rebuild their smile for a lifetime.
Dental Implant Salvage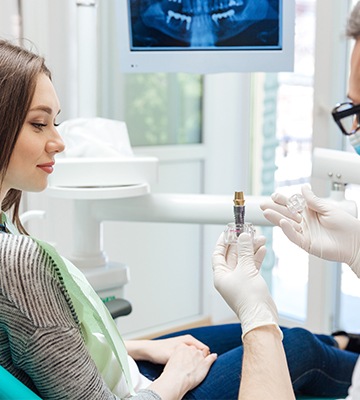 Did your dental implants not take the first time? It's rare for the procedure to fail, but in some cases the implant post might not join with the bone due to a health issue or placement error. In these cases, we can perform a dental implant salvage process to address the underlying problem. Most of the time, we can reattempt dental implant placement once your condition has been treated and your mouth has fully healed.
Learn About Dental Implant Salvage
Dental Implant Cost
Hands down, the dental implant process is the most effective way for replacing your missing teeth, but in order to proceed comfortably, you need to have as much information about the procedure as possible. This includes gaining an understanding of the cost structure. Read on to get the details you need.
Learn About Cost of Dental Implants
What Are Dental Implants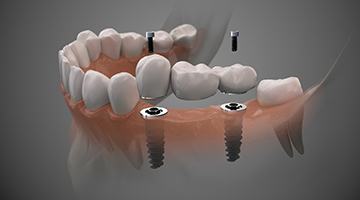 As medical-grade titanium posts, dental implants function like a natural tooth root or anchor, in order to support prosthetic teeth. Compared to traditional tooth replacements, dental implants provide a stable foundation by fusing directly to the jaw bone. With dental implants, your replacement teeth are bonded securely, so you do not have to worry about slippage when you eat, speak, smile or laugh. This is why dental implants have become the gold standard in the dentistry field for missing or failing teeth.
The Implant – A screw-like post serves as an artificial root or base. This is what permanently attaches to the jaw bone.
The Abutment – A titanium or zirconia connector attaches the replacement teeth to the dental implant.
The Crown (or Prosthesis) – Usually made of zirconia or porcelain for strength and aesthetics, this is the part of the tooth that is visible.
Dental implants can be utilized to replace a single tooth, multiple teeth, or even a full upper and/or lower arch of teeth. When you have your free consultation with Dr. Branberg, he will examine your teeth and review which treatment options apply to you. Every patient is unique, which is why we personalize treatment plans to fit each individual.
Full Mouth Implants
Patients who need to replace all their teeth in an upper and/or lower jaw have several treatment options at The DFW Dental Implant Center, including the All-on-4® treatment concept, full-arch implant bridges, and implant dentures.
Multiple Implants
If you are missing more than one tooth and still have healthy adjacent gums and surrounding teeth, a short implant-retained bridge or partial denture can be placed to preserve the other natural teeth.
Single-Tooth Implants
A single lost tooth, whether due to an accident, large cavity, infection or periodontal disease, can be replaced with a single dental implant. In some situations, a fixed crown can be attached to the implant on the same day.
Because they fit, feel and function like natural teeth, dental implants are quickly becoming a new standard in tooth replacement.