ALL-ON-4® DENTAL IMPLANT BRIDGE – COLLEYVILLE, TX
FULL-ARCH TEMPORARY BRIDGE PLACED ON THE SAME DAY AS YOUR SURGERY
The All-on-4® treatment concept has been around for nearly two decades. It is a cost-efficient, graft-less solution that provides specific patients with a fixed (non-removable) full-arch acrylic temporary bridge on the day of surgery. This improves esthetics, speech, sense of taste, and self-esteem in a shorter period of time compared to other traditional treatments. With it, a patient missing or soon-to-be missing an entire arch of teeth can literally walk into our dental office and leave with a full set of temporary teeth the same day!! After a couple months of healing, the permanent acrylic-titanium or porcelain-zirconia dental implant bridge is placed.
It is the preferred treatment option for people looking for a long-lasting, permanent solution to missing or failing teeth in either the upper or lower jawbone.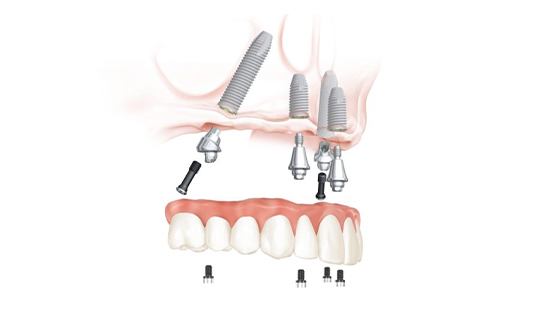 Example of a Maxillary (Upper) All-on-4® Implant Bridge
The one-piece implant bridge is permanently connected to the four dental implants. Since the bridge is secured to the dental implants, there is no need to cover the roof of your mouth like there is with a traditional denture. This improves your speech and sense of taste while providing you will have a comfortable, beautiful looking smile that will function like your natural teeth.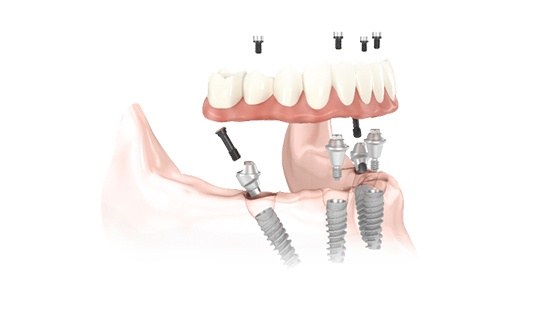 Example of a Mandibular (Lower) All-on-4® Implant Bridge
The one-piece implant bridge is permanently connected to the four dental implants. Since the bridge is secured directly to the dental implants, it will not come loose when you eat, speak, swallow or laugh, which commonly occurs with a lower traditional denture. As a result, you will have stable, comfortable replacement teeth that will function like your natural teeth.
WHY HAS THE ALL-ON-4® TREATMENT CONCEPT BECOME SO SUCCESSFUL?
Every year the number of people missing teeth is continuing to rise
Around the world, tooth loss is a very common condition. In fact, more than 40 million people in the Western world and 250 million people in Asia are missing all their natural teeth. These numbers equate to around 6-10% of the population worldwide.
This increase in edentulism is caused by many factors, including caries or cavities, tooth infections, periodontal disease, and medication-induced dry mouth. When people take their medications to treat high blood pressure, diabetes, depression, among others, most do not realize that they may have dry mouth as a result.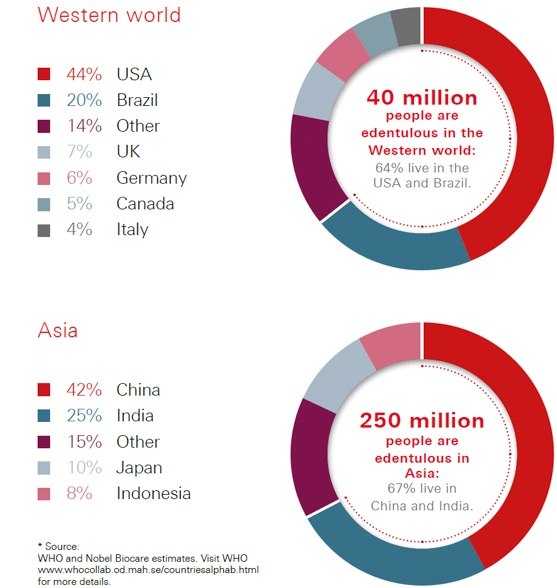 This increase is also due to the rise in the percentage of people over the age of 65 in Europe and the United States over the last decade as the baby boomer population ages.
A solution to the problem
Although dental implants have long become a standard service in dentistry, many of those patients who need dental implants most are not in a position to benefit from this treatment.
These patients often suffer from mild to advanced bone resorption, which means that they may require bone grafts or other preliminary procedures to prepare for implant placement. Additionally, the cost of placing enough implants to restore an entire arch can hinder some patient's ability to afford treatment.
All-on-4® treatment addresses these two issues and makes dental implants feasible for more patients. It eliminates the need for bone grafting procedures and minimizes the number of dental implants necessary, lowering the overall cost.
WHAT ARE THE BENEFITS OF THE ALL-ON-4® TREATMENT CONCEPT?
Restoring More Than A Smile – The All-on-4® treatment provides permanent, full-arch dentures connected directly to four dental implants. The prosthesis is fixed, which means it will not come loose when you eat, speak, sneeze, cough, swallow, or laugh. This added security quickly boosts the patient's self-esteem and confidence.
Full-Arch Restoration with Only 4 Dental Implants – All-on-4® implants consist of two straight implants in the front and two implants tilted up to 45o in the back. These two tilted implants have more contact with the jaw bone, providing optimized support even when the bone may not be particularly strong. Tilting the implants also avoids vital anatomical structures and more evenly distributes the implants' load for strength, which allows for a final prosthesis with up to 12 teeth.
Immediate Function – Total treatment time is significantly reduced because a fixed (non-removable) acrylic temporary bridge is attached on the day of surgery for those who meet criteria. Otherwise, patients need to wear a temporary denture while the implants heal.
A Graftless Procedure – With All-on-4® treatment, there is no need for time-consuming bone grafting procedures.
Lower Costs – This all-inclusive procedure costs much less than traditional dental implants, making it accessible to more patients.
It is easy to see why 98% of patients recommend All-on-4® treatment, as one study found.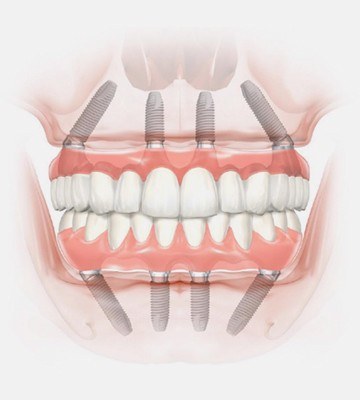 If you've suffered total tooth loss and you want a permanent solution, All-on-4® treatment could be the perfect choice for you. Aside from the aesthetic appeal of implant-retained dentures, many people enjoy a higher quality of life because of their ability to expand their diet and eat healthier foods again, like nuts and fruits.
The All-on-4® implant posts also preserve the surrounding teeth by stimulating the jaw bone and prevent the "sunken" look commonly seen in elderly people.
If you're tired of your traditional dentures, All-on-4® implants provide a prosthesis that never slips or moves without needing to use special cleaners or adhesives.
| | Dentures | Bridge | Implants |
| --- | --- | --- | --- |
| Longevity | 5-7 Years | 7-10 Years | Lifetime |
| Preservation of Healthy Adjacent Teeth | Yes | No | Yes |
| Transmission of force to: | Adjacent Teeth/Gums | Adjacent Teeth | Bone |
| Prevent bone loss & preserve facial appearance | No | No | Yes |
| Requirement for periodic adjustments | Yes | Yes | No |
| Accelerated loss of adjacent teeth | Yes | Yes | No |
Source: Premium Tooth Replacement , Deutsche Bank, January 26, 2006
WHAT SHOULD I EXPECT?
Attend A Free Consultation
Before we begin the dental implant procedure, you get a free, no obligation consultation. During this meeting, Dr. Branberg customizes one or two treatment options to your unique needs. He also explains the dental implant process and why you should choose us for your implant care. Finally, you receive a treatment plan with an accurate estimate for the cost of treatment, which means that you won't have to worry about surprise fees.
Diagnostic Evaluation
When you have decided that you are ready to move forward with your dental treatment, we will begin the clinical and radiographic examination. After we have recorded the necessary information, we will walk you through the procedure, so you know what to expect on your big day.
The Dental Implant Procedure… Wake up to a New You!!
Once you arrive at our dental office, the anesthesiologist will begin to administer the general anesthesia so you will be asleep throughout the procedure. Using the digital treatment plan and surgical guide, Dr. Branberg will remove any teeth, place the dental implants and deliver your new temporary bridge... All in one location.

Post Procedure Check Ups
Following your dental implant procedure, your jaw bone and tissue will require some time to heal. As a result, for two to three months, you will likely need to be on a soft food diet. While you heal, we will have you come in monthly to check that everything is healing and integrating according to plan. Note that these post-op checkups come at no additional cost to you.
Receive Your Permanent Teeth
This is the final step!! After three to four months of healing, we will start fabricating your new teeth. At the DFW Dental Implant Center, we use a You-focused Approach. This allows you to assist us in creating your new smile. You have the freedom to choose the color, size, shape and position of your new teeth so you will leave our office with the smile that you have always wanted.
WHY CHOOSE US?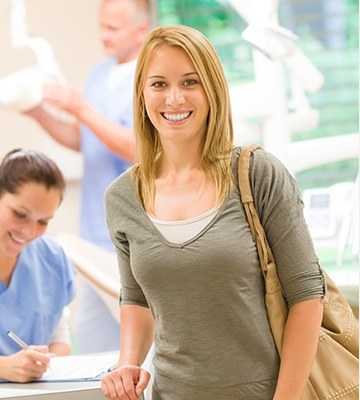 We believe that there is a better way to perform implant dentistry. Our dental implant center focuses on the patient by providing quality dentistry provided by a dedicated team of experts in one location. This approach has allowed thousands of patients receive a better smile and a healthier mouth without the inconvenience of having to travel to different dental offices for care.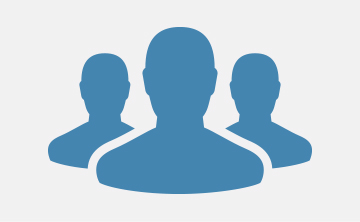 One Team
Our dedicated team of experts includes a Prosthodontist, an anesthesiologist and an on-site laboratory technician working together to complete the procedure in one day while you are asleep. Dr. Steven Branberg is a Prosthodontist with advanced training in both surgical and restorative implant dentistry. With 10+ years in the field of Prosthodontics, Dr. Branberg has the experience and training to restore your smile. Dr. Eric Cancemi is an anesthesiologist with experience in both hospital and dental office settings. He will administer general anesthesia to make sure that you do not experience any discomfort during the procedure. Luis Mata is a laboratory technician that is responsible for making your new replacement teeth. We believe that having all these specialists working face-to-face helps to provide a better result in a timelier fashion.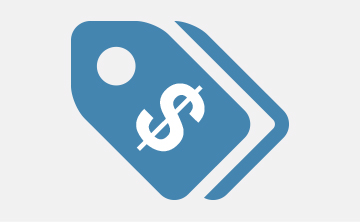 One Cost
At your free consultation, we will perform an initial evaluation, discuss your treatment goals and provide several different treatment options to you. This allows us to develop a preliminary treatment plan for your specific needs with a breakdown of cost (when and how much is due at each stage). There are no hidden costs, such as additional fees for x-rays, extractions, bone grafting, post procedure visits or adjustments. The cost includes everything from start to finish to transform you smile, including:
Free Consultation
Diagnostic Evaluation and 3D CAT Scan
Dental implants, tooth extractions, bone grafting, temporary teeth and sedation
Post Procedure Check-ups
Permanent teeth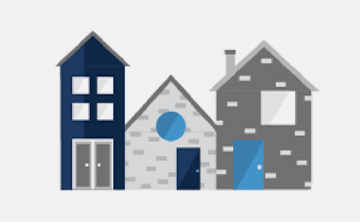 One Location
Traditionally, dental implants require patients to travel to different locations to be treated by multiple specialties. The oral surgeon will place the dental implant, a lab technician will make the restoration and a restorative dentist will place the crown. This often increases the cost and time of treatment. At the DFW Dental Implant Center, we complete all phases of the dental implant procedure in one location. This makes the process more convenient, less expensive and quicker to complete.
THE DFW DENTAL IMPLANT CENTER DIFFERENCE….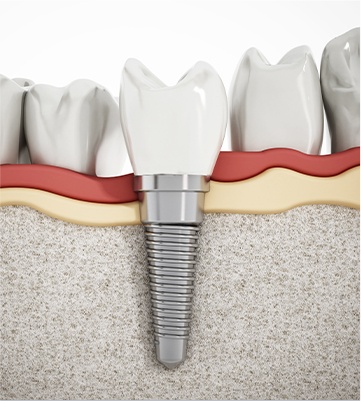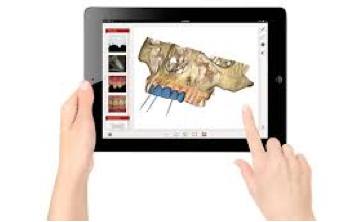 Digital Treatment Plan
Proper treatment planning and precise placement of the dental implants are critical for the success of the All-on-4® procedure. Using your 3-dimensional CAT scan and our computer imaging software, the exact location, length and angulation of the dental implants can be determined. This eliminates any surprises on the day of surgery and makes the outcome more predictable.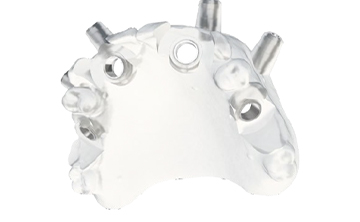 Surgically Guide Implant Placement
Guided surgery has helped to revolutionize the field of implant dentistry. After the locations of the dental implants have been determined and the mock-up of the teeth have been superimposed on the Ez3D-i imagining software, our lab technician can fabricate a surgical guide that helps Dr. Branberg place the implants in their precise location. This prosthetically-driven approach improves the aesthetic outcome of the final implant bridge.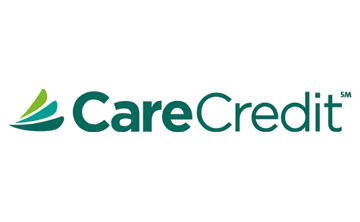 Dental Insurance Accepted and Third-Party Financing Available
We understand how important it is to be able to restore your dental health and self-confidence with a long-term solution. This is why we work with CareCredit® to offer third-party financing. We also accept all PPO dental insurance plans and will file the claims on your behalf. For patients without dental insurance, we also accept cash, checks, debit cards, and all major credit cards.