Teeth in a Day – Colleyville, TX
The Fast Track to a Complete Smile
If you have suffered a significant degree of tooth loss, modern dentistry offers a number of treatments that can restore your smile and renew your ability to enjoy a robust diet. Traditional dentures are a popular option, but they are not as sturdy or long-lasting as most people would like. Dental implants are a superior choice — but some patients hesitate to commit to them because the dental implant process can be a lengthy one. However, there is a faster dental implant treatment: Teeth in a Day.
Why Choose DFW Dental Implant Center for Teeth in a Day?
Highly experienced implant dentist
State-of-the-art technology
Faster than traditional dental implants
What Is Teeth in a Day?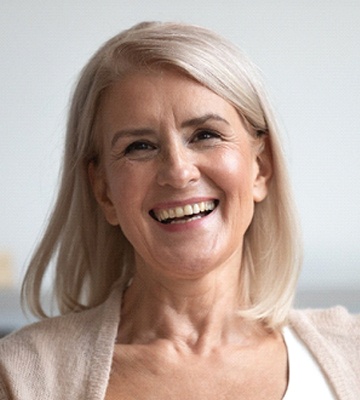 Teeth in a Day is a specific dental implant treatment wherein you can arrive at your dentist's office with no teeth and leave the same day with a complete smile. In just one appointment, you may have your remaining natural teeth extracted, have dental implants placed at strategic locations in your jawbone, and be fitted with a temporary denture to go on top of the implants.
Benefits of Teeth in a Day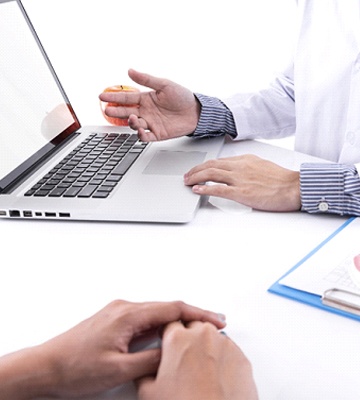 Teeth in a Day offers numerous benefits, including:
The process is fast. With traditional dental implants, patients typically must wait for months after they receive their implants before they get their new teeth. Teeth in a Day eliminates that waiting period.
The process is comfortable. Many patients remark that the dental implant process is much more comfortable than they originally anticipated.
The results are natural-looking. Your temporary denture will provide pleasing aesthetics. When you get fitted with your permanent denture, you'll enjoy a smile that is beautiful and indistinguishable from natural teeth.
You'll be able to eat practically anything. After you heal from your implant placement surgery, you'll b able to enjoy a robust variety of foods without taking any special precautions.
You may not need a bone graft. Often, traditional implant procedures require that patients undergo a bone graft. The precise placement of implants during the Teeth in a Day procedure usually eliminates the need for that extra step.
Implant-supported dentures are superior to traditional dentures. Traditional dentures may last for just a few years before replacement becomes necessary. They are also not always as sturdy as is ideal. Implant-supported dentures can last for a decade or longer (the implants themselves may last a lifetime), and they are extremely stable.
The Teeth in a Day Procedure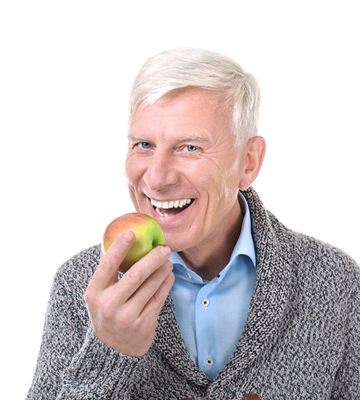 The Teeth in a Day procedure has three main phases:
Preparation. Your dentist determines your eligibility for dental implants, answers all of your questions, and maps out your custom treatment plan. You may need to undergo one or more treatments (for example, gum disease therapy) before you are eligible to receive dental implants.
Surgery and placement of the temporary denture. In one appointment, dental implants are placed at precisely planned positions in the jawbone. A provisional (temporary) denture is securely placed on top of them.
Healing and placement of the permanent denture. After your bone and gums recover from the surgery and the dental implants form a strong bond with your body, you'll receive a permanent implant-supported denture to replace your permanent one.
Teeth In A Day Aftercare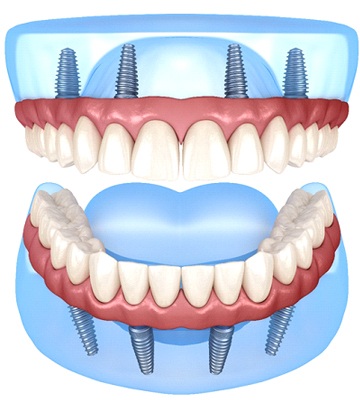 Right after your surgery, you should stick to a liquid diet for a few days before you graduate to soft foods. Applesauce, smoothies, strained creamy soups, and broiled fish are all good choices. The important thing is that you do not eat anything that would place a lot of pressure on your implants or irritate the surgical sites. You should continue with the soft foods diet until you receive your permanent denture.
Oral hygiene is also a pivotal part of Teeth in a Day aftercare. Gentle brushing, flossing, and rinsing can keep your mouth clean and greatly reduce the risk of infection. Smoking should be avoided as well because it can hinder your mouth's ability to recover after surgery.
Understanding the Cost of Teeth in a Day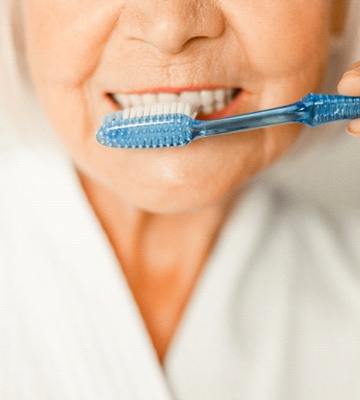 Teeth in a Day costs more than traditional dentures, but it may cost less than other implant procedures. The total price of your treatment will depend on how much preparatory work is necessary, how your dental insurance does or does not apply, and other factors. The team in our office will give you a candid estimate of your financial obligation and help you explore payment options. Although Teeth in a Day may seem expensive at first, remember that this procedure is an investment in your oral health and confidence that can serve you for decades.
Teeth in a Day FAQs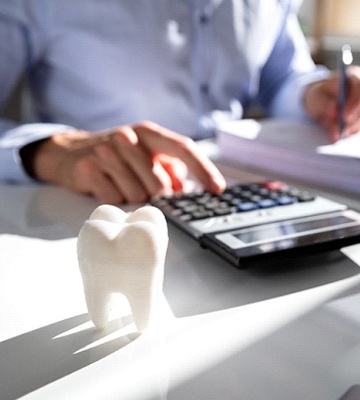 Teeth in a Day may sound wonderful, but you likely still have questions about the treatment and how it works. That is why we have compiled the following frequently asked questions, along with their answers. If you do not find the information you were hoping for, you are welcome to give us a call and talk to us in person.
What Is the Difference Between Regular Dental Implants and Teeth in a Day?
A few key differences between regular dental implants and Teeth in a Day include:
Teeth in a Day tends to be a shorter process.
Teeth in a Day is often less expensive than full-arch replacement with traditional implants.
Traditional implants can be used to replace any number of teeth. Teeth in a Day is exclusively for full-arch replacement.
Full-arch replacement with traditional implants usually uses more implants than Teeth in a Day, which means the denture has more support.
Am I a Good Candidate for Teeth in a Day?
An expert implant dentist is the best person to tell you whether Teeth in a Day is a fit for your situation. However, you may be a good candidate for Teeth in a Day if:
You have lost all or most of your natural teeth.
You are free of any health problems that could compromise your ability to heal after surgery.
Your jawbone is able to support dental implants.
You are tired of your traditional denture and want a more stable solution.
Does Dental Insurance Cover Teeth in a Day?
Some types of dental insurance are willing to cover dental implants. However, most are not. You must check with your specific policy to be sure. If your insurance does not cover Teeth in a Day, it might cover preliminary treatment. If your insurance does not cover (or covers only a small portion) of Teeth in a Day, you may be eligible for low-interest financing to break up the cost of your procedure into budget-friendly monthly installments.
Do Teeth in a Day Ever Take Longer Than a Day?
From your initial consultation to the day you receive your final restoration, several months may pass. However, the implant surgery and placement of the temporary restoration usually takes place on the same day.