September 12, 2023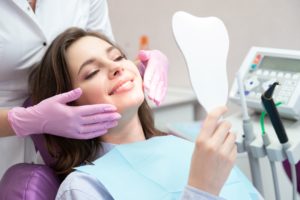 Having perfectly symmetrical, bright white teeth has become part of a beauty standard that many aspire to. Who doesn't wish they could hide flaws in their teeth or perfect their smiles? It could increase self-confidence, reduce anxiety, and help us engage more with others. Those all sound like great benefits, but how can we make them a reality? Fortunately, cosmetic dentistry provides solutions that can do just that! Read on to learn more about what it is and the treatments available.
What Is Cosmetic Dentistry?
Cosmetic dentistry refers to any dental work that upgrades the appearance of your teeth, gums, or mouth. Often these improvements are purely aesthetic, which sets them apart from other types of dentistry. Patients may opt to have it done for personal reasons, like so that they feel better about themselves in social situations, rather than because something has happened that requires repair. It's not always just about how you look, though! Some cosmetic services also serve to strengthen and protect teeth as well as enhance their appearance.
What Are Common Cosmetic Dental Treatments?
There are many ways that cosmetic dentistry can refine your smile, including:
Teeth whitening. Your dentist has access to professional-grade materials and instruments that can safely remove years worth of stains. Many dentists will even put together a take-home whitening kit for your convenience.
Dental Bonding. This involves applying a tooth-colored resin and then hardening it with ultraviolet light. It can be used to brighten your smile, hide discoloration, or mold a misshapen tooth. It also can repair cracks, chips, and fill in areas of tooth decay. That makes it both an aesthetic and functional treatment.
Veneers. These are thin, durable shells usually made of porcelain or resin that are affixed to the front of your teeth. They are often used to hide discolored or chipped teeth. Once in place, they help protect teeth from potential staining or cracking in the future. They can also be used to hide somewhat crooked teeth so everything looks straighter.
Porcelain Onlays. Sometimes called "partial crowns", these durable porcelain covers fit over the top of multiple tooth cusps. They shield teeth from decay as well as general wear and tear. Because they're customizable, they both support vulnerable teeth as well as form an even appearance.
If you're wondering what treatment is best for you, call your dentist! Everyone's teeth are different, and they can provide options tailored to your specific oral health care needs. Soon you'll be on your way to a smile you can brag about!
About the Practice
As the premier dental office in the Dallas-Fort Worth area, The DFW Dental Implant Center provides all aspects of implant, cosmetic, and general dentistry. Patient comfort is a priority and with sedation dentistry, you can feel calm throughout your procedure. With the latest in dental technology onsite, there's no need to visit multiple locations for treatment. If you'd like to enhance your grin, you are welcome to request an appointment on the website or call (817) 440-7133.
Comments Off

on Just What Is Cosmetic Dentistry, Anyway?
No Comments
No comments yet.
RSS feed for comments on this post.
Sorry, the comment form is closed at this time.