Dentures & Partial Dentures – Colleyville, TX
Custom-Made Prosthetics For Renewed Smiles
Several missing teeth can cause major problems not only for someone's self-esteem, but their overall health as well. People with multiple missing teeth have been shown to be at a higher risk of developing other serious health conditions such as diabetes and heart disease, not to mention the daily struggles of just trying to eat and speak. At The DFW Dental Implant Center, Dr. Branberg can provide you with a high-quality, custom-made denture that will not only restore your oral health and appearance but safeguard your overall health as well.
Why Choose DFW Dental Implant Center for Dentures & Partial Dentures?
Both traditional & implant-retained dentures available
Dentist with years of prosthodontic training
Dentures custom-made for every patient by our own on-site technician
Traditional Complete Dentures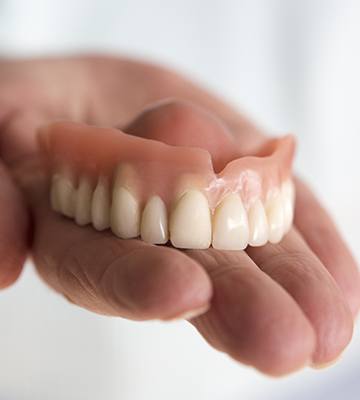 Whenever you hear the word "dentures," the image that probably pops into your mind is of complete dentures, that is, two entire rows of prosthetic teeth. These dentures are able to help patients missing most of or all of their teeth, and they are designed to sit directly on the gums and stay in place thanks to natural suction. With them, a patient can regain the ability to eat and speak normally again, and thanks to Dr. Branberg, they can also help a patient smile with confidence.
Metal Based Removable Partial Dentures (RPDs)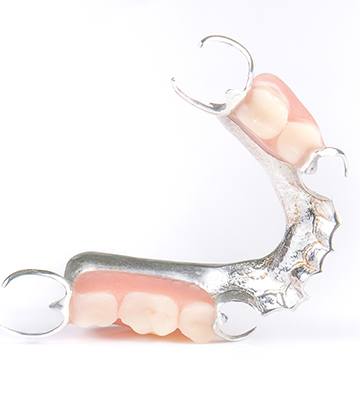 Partial dentures are able to replace multiple consecutive and nonconsecutive teeth missing throughout the mouth. They are custom-shaped to fit among a patient's remaining healthy teeth like the last piece of a jigsaw puzzle. They consist of ceramic teeth held together using a metal framework and fit within the mouth using small clasps that loop around healthy teeth. With a partial denture, our team can restore someone's smile while preserving as many of their natural teeth as possible.
Flippers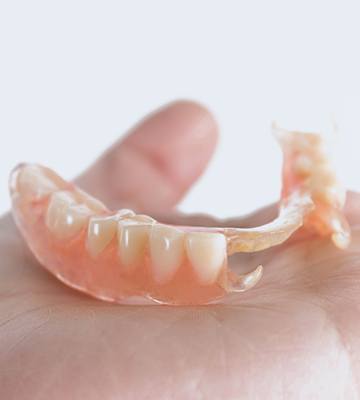 In many cases, a patient needs to have one or more decayed/broken teeth removed in order to create more room for a new denture. Right after the teeth are extracted, a patient will wear an acrylic removable denture that is sometimes referred to as a "flipper." This is a temporary solution that allows a patient to have a full set of teeth as they heal. Once their mouth is ready, the flipper will be replaced by a patient's final denture.