Dentures & Partial Dentures – Colleyville, TX
Custom-Made Prosthetics For Renewed Smiles
Several missing teeth can cause major problems not only for someone's self-esteem, but their overall health as well. People with multiple missing teeth have been shown to be at a higher risk of developing other serious health conditions such as diabetes and heart disease, not to mention the daily struggles of just trying to eat and speak. At The DFW Dental Implant Center, Dr. Branberg can provide you with a high-quality, custom-made denture that will not only restore your oral health and appearance but safeguard your overall health as well.
Why Choose DFW Dental Implant Center for Dentures & Partial Dentures?
Both traditional & implant-retained dentures available
Dentist with years of prosthodontic training
Dentures custom-made for every patient by our own on-site technician
Traditional Complete Dentures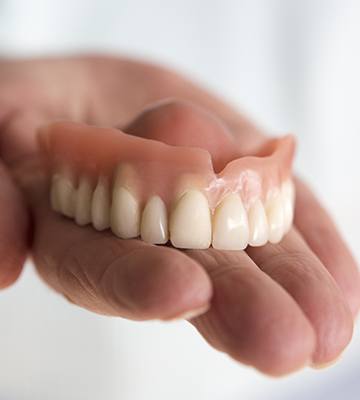 Whenever you hear the word "dentures," the image that probably pops into your mind is of complete dentures, that is, two entire rows of prosthetic teeth. These dentures are able to help patients missing most of or all of their teeth, and they are designed to sit directly on the gums and stay in place thanks to natural suction. With them, a patient can regain the ability to eat and speak normally again, and thanks to Dr. Branberg, they can also help a patient smile with confidence.
Metal Based Removable Partial Dentures (RPDs)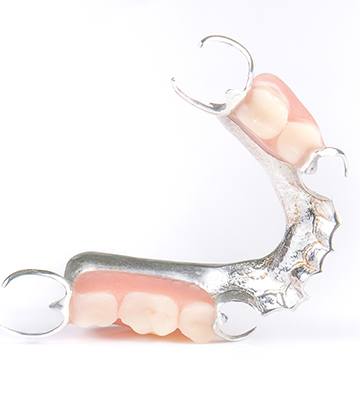 Partial dentures are able to replace multiple consecutive and nonconsecutive teeth missing throughout the mouth. They are custom-shaped to fit among a patient's remaining healthy teeth like the last piece of a jigsaw puzzle. They consist of ceramic teeth held together using a metal framework and fit within the mouth using small clasps that loop around healthy teeth. With a partial denture, our team can restore someone's smile while preserving as many of their natural teeth as possible.
Flippers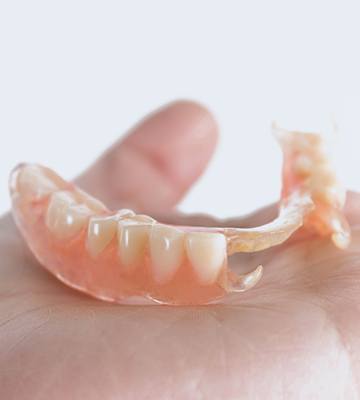 In many cases, a patient needs to have one or more decayed/broken teeth removed in order to create more room for a new denture. Right after the teeth are extracted, a patient will wear an acrylic removable denture that is sometimes referred to as a "flipper." This is a temporary solution that allows a patient to have a full set of teeth as they heal. Once their mouth is ready, the flipper will be replaced by a patient's final denture.
Denture FAQs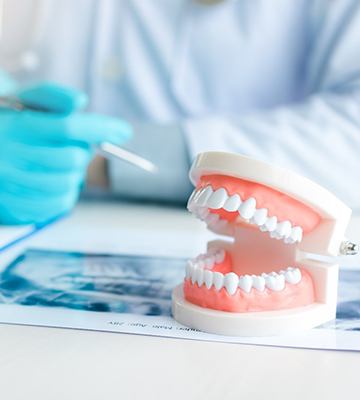 Are you struggling with the inconveniences of missing teeth? We hope you visit our team soon for a dentures consultation. Before you do that, though, you may want to learn more about this treatment and what you can expect from it. That is why we have compiled the following list of frequently asked questions about dentures in Colleyville. For more personalized assistance, please give our team a call.
How Much Do Dentures Cost?
The cost of your dentures will depend on various factors, including the extent of your tooth loss, what materials are used to make your denture, and whether you choose an implant- supported or traditional prosthetic. Traditional dentures tend to be one of the lowest-priced tooth replacement options. However, implant-supported ones offer a better long-term value. During your consultation, our team will provide you with an estimate for the price of your treatment and help you explore your payment options.
How Long Do Dentures Last?
Traditional, non-implant dentures may become loose over time due to changes in the size and shape of a patient's jawbone. While relines (adjustments) can make up for such changes to an extent, you will eventually have to replace your dentures altogether, perhaps after 5 – 8 years or so.
Because dental implants help the jawbone to retain its original shape, implant-retained dentures tend to last much longer than their traditional counterparts. They are a popular way to solve and prevent issues related to loose dentures.
Will I Have to Avoid Any Foods?
Traditional dentures can enable you to eat a wide variety of foods. However, you should avoid foods with small pieces that might work their way beneath your prosthetic and irritate your gums (popcorn and foods with tiny seeds are examples of this). You should also exercise caution when you are eating tough foods, such as chewy meats. Implant-retained dentures, on the other hand, can enable you to eat virtually anything without taking extra precautions.
Can I Sleep With My Dentures in My Mouth?
You should remove your dentures every evening before you go to bed. Doing so will give your gums an opportunity to rest and recover from supporting your prosthetic teeth all day. When you remove your dentures, you should give them a thorough cleaning and store them in water or a denture-soaking solution overnight.
What Should I Do if I Accidentally Damage My Dentures?
You should never try to wear damaged dentures; they could harm your gums or other soft tissues in your mouth. As soon as you notice any problems with your prosthetic, give our office a call. We'll assess the damage to your denture and recommend a course of action. In some cases, we are able to repair damaged dentures. In other instances, we must begin the process of creating a replacement prosthetic.