July 9, 2023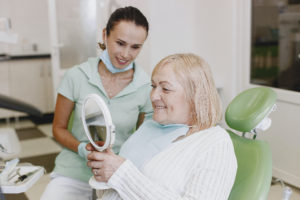 Dental implants revolutionized tooth replacement because they are the only method to recreate the roots and the crowns of lost teeth. Most people with good oral and general health can replace their missing teeth with dental implants, but can you be too old for them? You're never too old for dental implants, but there are a few things you should know.
How Do Dental Implants Work?
A dental implant is unique because it replicates the entire structure of a tooth. A titanium post is placed into the jawbone to mimic a root. Bone fuses to the post through a process called osseointegration, allowing the implant to potentially stay in place forever. An abutment is placed on the post to connect a customized restoration. It's made of all-ceramic material to blend in with any remaining teeth.
Dental Implants and Seniors
There isn't an age limit for dental implants, but certain health issues and medications are associated with getting older, like those that affect the body's ability to heal and fight infections. If you have pre-existing conditions or take regular medications, you can still benefit from dental implants. However, your dentist may take precautions to ensure the success and safety of your procedure.
It's not unusual for older patients to need a little prep work, like gum disease therapy, tooth extractions, or bone grafting. Your dentist will learn more about your health history during your consultation to ensure dental implants are right for you.
Benefits of Dental Implants
More than 500,000 people every year are choosing dental implants to treat their tooth loss. They provide unmatched benefits, like:
Look Natural: The implant post is hidden below the gum tissue while supporting a customized restoration that matches the color, size, and shape of your real teeth to provide natural-looking results.
Feel Natural: Your restoration will have the support of your jawbone to regain 70% of your biting force. You'll never have to worry about any slipping or irritation.
Jawbone Preservation: A dental implant is the only way to stop bone loss caused by missing teeth. The post stimulates the jaw to encourage new bone growth to keep it strong and healthy.
Better Oral Health: Preserving your jaw prevents common issues associated with missing teeth, like cavities, gum disease, and additional tooth loss.
High Success Rate: Dental implants have over a 95% success rate with the right aftercare, like brushing and flossing.
Long Lifespan: Dental implants are proven to last for 30 years or longer with good oral hygiene at home and regular care from a dentist.
Reduced Dental Expenses: Dental implants reduce your overall oral health expenses by keeping preventable issues at bay, and you'll never have to budget for replacements.
Whether you're in your 50s, 60s, or beyond, it's never too late to invest in a complete smile. You can enjoy a lifelong solution with dental implants.
About Dr. Steven Branberg
Dr. Branberg earned his dental degree from the University of Southern California School of Dentistry and continued his education to achieve his Certificate in Prosthodontics. He has qualifications in many areas of specialty, like dental implants. Dr. Branberg is affiliated with several professional organizations, including the American Academy of Prosthodontics. Request an appointment through our website or call (817) 518-9958.
Comments Off

on Am I Too Old for Dental Implants?
No Comments
No comments yet.
RSS feed for comments on this post.
Sorry, the comment form is closed at this time.