April 5, 2023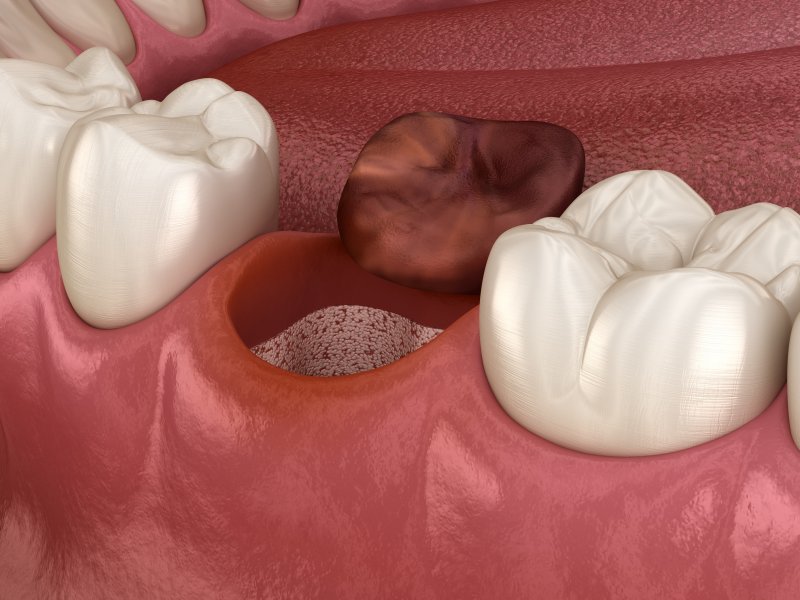 So, you've just had one of your teeth pulled. You're probably happy to have finished the treatment – delaying it would have caused more problems! That said, perhaps you're worried you might get a dry socket now. The latter, after all, is always a possibility following a tooth extraction. In reality, though, your odds of suffering this condition are low. As long as you follow the correct post-op instructions, you can avoid it. Here's a summary of the matter from your local Dallas dentist to prove it.
What's a Dry Socket?
Before anything else, it'll help to review what a dry socket is. Doing so will help you grasp what the problem entails.
Put simply, a dry socket occurs when an extraction site's blood clot fails to develop. Since the clot is a protective layer, lacking it exposes your socket's underlying bone and nerves. That exposure, in turn, often results in intense pain.
Known symptoms of a dry socket include:
Pain within a few days of a tooth extraction
Loss of the blood clot at the extraction site
Visible bone in the socket
Unpleasant mouth taste or bad breath
Today, Dry Sockets are Rare
Admittedly, dry socket formation is always possible until the extraction site heals. Even so, you aren't that likely to develop one.
You see, gums don't take long to heal from an extraction. The average time needed is as little as 7-10 days. Therefore, the window in which something could happen to your blood clot is quite narrow. Statistics even bear this fact out – only 1-3% percent of all tooth extraction cases involve a dry socket.
Of course, don't hesitate to see a dentist if you experience abnormal symptoms. It's always better to be safe than sorry!
Prevent Dry Socket with Post-Op Tips
Following extraction, your dentist will give you post-op tips to help you avoid a dry socket. These will likely include the following:
Avoid Using Straws – The suction movement of air and cheek muscles when you use a straw may dislodge your blood clot.
Don't Smoke – People who smoke and use tobacco are at higher risk of developing dry sockets.
Eat Soft Foods – The first day after surgery, only have soft foods like applesauce, yogurt, and mashed potatoes.
Keep a Clean Mouth – As it happens, good oral hygiene prevents germs and infections from breaking down the blood clot.
Ultimately, a dry socket isn't something you should fear. Just follow the instructions above, and you'll prevent one from happening!
About the Practice
The DFW Implant Center is based in Colleyville, TX. Led by Drs. Branberg and Cancemi, our practice provides complete dental care for patients. To that end, we perform high-quality preventive, cosmetic, and restorative treatments, as well as emergency procedures. Thus, you can trust our team for all your oral health needs! For more information or to book a visit, you can reach us on our website or by phone at (817)-440-7133.
Comments Off

on Should You Worry About Getting a Dry Socket?
No Comments
No comments yet.
RSS feed for comments on this post.
Sorry, the comment form is closed at this time.