February 4, 2023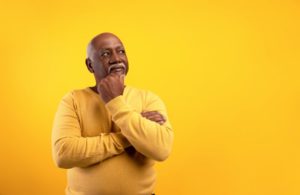 As their popularity continues to grow, you've been learning more about dental implants and how they can be a great choice for tooth replacement. One aspect you haven't seen discussed much yet is using a dental implant to replace a front tooth. In a location that's so prominent when you smile, not to mention biting foods and pronouncing words – it's a major concern. So, can dental implants answer the call in this location of the mouth? Read on to find out from an implant dentist in Colleyville.
What Is the Process for a Front Tooth Implant?
So, to get the big question answered right away, a dental implant can indeed replace a missing front tooth. It's not as common as implants being placed further back into the mouth, but in many cases, it is still the best option.
First, if you haven't already lost the tooth to be replaced, you'll need a tooth extraction. The space must be allowed to heal for at least three months, enabling the bone to fill in or solidify to the point that an implant can be placed with a high likelihood of success. That healing timetable might be shortened if you were already missing a front tooth and hadn't yet suffered from bone deterioration.
Once the space has healed, an implant is inserted so osseointegration can occur between your bone and the implant threads to lock the implant into place. This process occurring fully is critical to the success of your treatment. The implant will be covered for protection, and you'll need to be very careful around it during your oral hygiene regimen.
After at least three months of healing, your implant will have fused to the bone and be ready to support an abutment and crown. Your implant dentist will place the abutment, then take a digital scan to send to a lab for the fabrication of your porcelain crown. When the crown is ready, you'll return to the office and get your new front tooth cemented or screwed onto the implant to ensure you have a complete smile once again.
What Are the Benefits of Replacing Front Teeth with Dental Implants?
While a dental bridge or one-tooth removable denture are alternate treatment options, in most cases, the optimal choice to replace a missing front tooth is a dental implant. Just as they apply when replacing other teeth in your mouth, dental implants have an array of benefits when substituted for front teeth, including:
Longevity: With proper oral hygiene and regular appointments to see your dentist, dental implants can potentially last the rest of your life. No other tooth replacement options can match that.
Enhanced Strength: Since dental implants are more stable and stronger than other tooth replacement options, you can bite and chew a vast array of foods. Especially when the front teeth are involved, biting is the key. Apples are back on the menu.
Prevent Jawbone Deterioration: Dental implants serve the same function as your natural tooth roots. That means stimulation for your jawbone to prevent it from losing density, which also preserves your facial shape.
Natural Appearance: The implant post is beneath the gumline, and the crown to replace your front tooth will blend right in with your smile. This is key since your front teeth on the top row are the most visible ones to other people.
You need to be deemed a viable candidate for this treatment by your implant dentist, but that's exactly what a consultation is for. They will conduct an exam and review your dental history, and it's a great time to ask any questions you might have. If you get the green light, you can be confident a dental implant is the best substitute for your natural front tooth.
About the Author
Dr. Steven Branberg has been working for the smiles of Texans since 2011. He earned his dental doctorate from USC and remained at the school to achieve his Certificate in Prosthodontics. A member of the American Dental Association, Dr. Branberg can perform the entire dental implant process for his patients. He offers a free dental implant consultation and a special price on the treatment itself. Whether you need to replace a front tooth or all your teeth, you can schedule that consultation on his website or call (817) 440-7133.
Comments Off

on Can I Replace My Front Teeth with Dental Implants?
No Comments
No comments yet.
RSS feed for comments on this post.
Sorry, the comment form is closed at this time.