January 6, 2023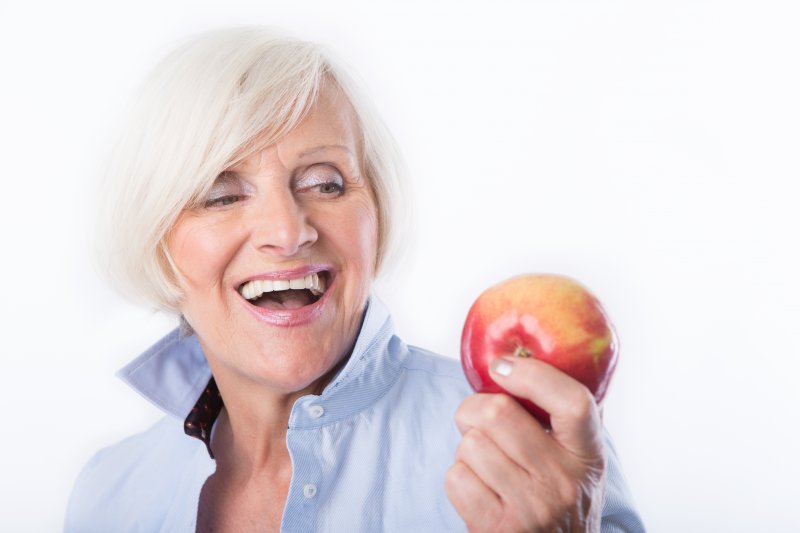 You recently learned you're a good candidate for dentures. Because you are missing multiple teeth, you want a solution that will not only improve your oral function but also restore your smile's appearance. Because these prosthetics have been around for centuries, they're often a tried-and-true treatment option for a dentist to recommend. But do dentures affect your nutrition? Will you be able to eat all your favorite foods? Read on to hear from a dentist who explains what you can expect.
Dentures & Food: Can You Eat Your Favorite Things?
Dentures are known for their ability to restore a patient's appearance, and they deliver improved bite force, which is helpful to someone living without a complete smile. Unfortunately, though, regular dentures do not offer the same level of chewing ability, which makes it harder to eat some of a person's favorite foods.
This is why many patients often need to alter their eating habits so that they can receive the necessary nutrients their bodies need. Instead of biting down on dense, hard, or crunchy foods, it is often required for denture-wearers to cut food into small pieces or eat softer meals.
Some of the most nutrient-rich items a person with dentures can eat include:
Eggs
Potatoes
Pasta
Rice
Applesauce
Soft fruits
Is There an Alternative Option to Traditional Dentures?
If the idea of giving up certain foods doesn't sound like something you want to endure, there are alternative options. When meeting with your dentist, don't hesitate to inquire about implant dentures. These customized prosthetics work similarly to traditional ones; however, they are attached to implant posts that are surgically placed in the jawbone.
Implant dentures are known for their stability, functionality, and longevity, and they have helped millions of individuals in the U.S. achieve better oral and overall health as a result. Because they fuse with the bone tissues, a stronger foundation is created to allow teeth to function as they normally would.
Avoiding certain foods is no longer an issue, which is why considering alternative tooth replacement solutions is never a bad idea.
When faced with missing teeth, don't assume traditional dentures are the only way to regain a complete smile. Enjoy life and eat the foods you love with prosthetics that allow you to do so in the best way possible.
About the Practice
DFW Dental Implant Center consists of multiple professionals who care about patients' smiles. Those with missing teeth can enjoy new and improved functionality when it comes to choosing implant dentures. Giving greater stability and longevity, patients can eat their favorite foods without worry while also avoiding regular replacements and adjustments. Discover more about this superior form of tooth replacement by contacting us at (817) 498-3331.
Comments Off

on Will Dentures Affect Your Ability to Eat Your Favorite Foods?
No Comments
No comments yet.
RSS feed for comments on this post.
Sorry, the comment form is closed at this time.