December 16, 2022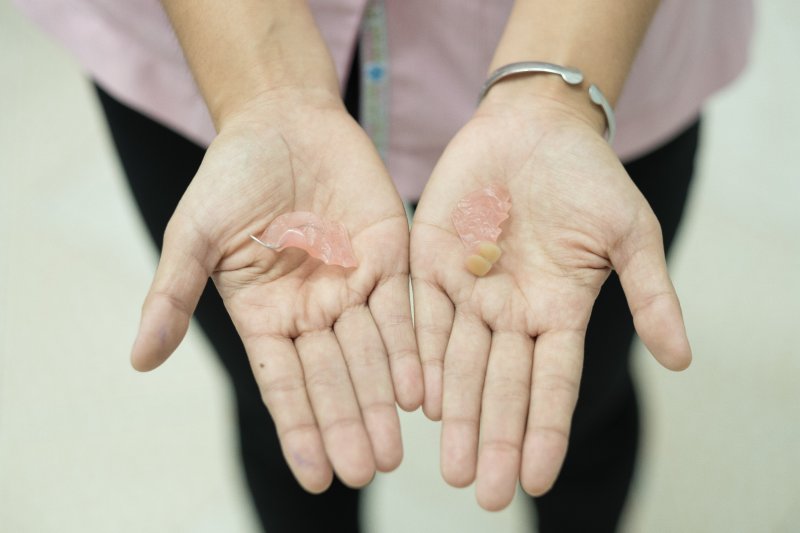 For the sake of argument, imagine that your denture suddenly breaks apart. In that situation, you might view the issue as trivial. The prosthetic isn't a natural part of your mouth, so it's easy to think you can hold off repairs for a while. However, the truth is that a broken denture is a serious dental emergency. That being the case, it's crucial to get urgent care for it. If you'd like to learn more, your local dentist has the scoop. Here's a summary of why busted dentures are an emergency, including what causes them and how dentists can help.
What Causes Dentures to Break?
Dentures generally break for one of two reasons: natural causes or accidental injuries. You should thus keep watch for both factors while using your restorations.
A denture breaking from natural causes is relatively common. For example, those used for a while can fracture after going through many stress cycles. On the other hand, some suffer cracks as they become ill-fitting. After all, dentures don't stop your jaw's bone loss and can shift as that process occurs.
While somewhat rare, dentures can also break from accidents. Since you need to remove them for cleaning and sleeping, they might get damaged from falls and such. Of course, dentures may even break if they slip out of your mouth.
What Makes a Broken Denture an Emergency?
While a broken denture is artificial, it'll still reduce your quality of life. So long as it doesn't work, the prosthetic can't help you with crucial, everyday tasks. Given that fact, a denture breaking counts as a dental emergency.
As evidence, consider activities like speaking and eating. Though essential to daily living, they're difficult to do without functional dentures. The resulting challenges could alter your diet for the worse or make communication impossible.
How Can a Dentist Help?
At an emergency dental visit, a dentist can assess your dentures and determine the best treatment. In particular, they may offer services like:
Denture Relining: If your denture broke due to a poor fit, a dentist could repair it with a reline.
A Replacement Denture: Sometimes, a denture breaks because of low-quality materials. If that applies to your situation, you may just want a replacement.
An Implant Denture: Should your first denture stop working as your jawbone shrinks, it might be time for implant ones. The latter kind halts jaw-related bone loss, fits snugly and gives you confidence for everyday life.
While it might seem trivial, a broken denture is no laughing matter. Therefore, quickly see your dentist so it can get fixed!
About the Practice
The DFW Implant Center is based in Colleyville, TX. As led by Drs. Branberg and Cancemi, our practice offers great, comprehensive dentistry. In particular, we perform preventive, cosmetic, and restorative treatments, as well as emergency dental procedures. That being the case, you can count on us for everything from checkups to dentures! For more information or to book a visit, you can reach us on our website or by phone at (817)-440-7133.
Comments Off

on Does a Broken Denture Qualify as a Dental Emergency?
No Comments
No comments yet.
RSS feed for comments on this post.
Sorry, the comment form is closed at this time.