August 4, 2022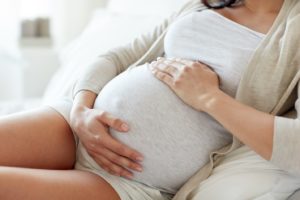 Pregnancy is an exciting time in your life; but it also means that you've got a lot of extra things to keep track of, now that you've got an extra passenger onboard! One thing to keep in mind is your oral health; and tooth loss is one problem in particular that can expedite several other serious issues, including additional missing teeth. But are teeth restoration solutions like dental implants safe during pregnancy? Keep reading to learn more.
How Does Pregnancy Affect My Oral Health?
You don't have to be told that pregnancy greatly affects your body—everything from your belly growing to the bizarre cravings you'll have is greatly influenced by the condition. But it also affects your oral health in a few different ways. For example, persistent morning sickness can damage your enamel, increasing your risk of tooth decay. The surge of hormones can also cause your gums to swell, which increases your risk of gum disease. Because of these increased risks, the American Dental Association encourages women who are pregnant to seek out regular preventive oral health care, including cleanings and exams.
Can I Get Dental Implants If I'm Pregnant?
Despite the need for preventive oral care during pregnancy, procedures like dental implants don't necessarily have quite as much priority. While dental implant surgery can be performed after the first trimester, most oral surgeons prefer to wait until the patient is no longer pregnant to perform the procedure. There are a few reasons for this:
Elective vs. necessary treatment – Even though it's best to replace missing teeth sooner rather than later, dental implants are still considered an elective procedure. Therefore, many dentists prefer to wait until after the patient has given birth to perform the surgery.
Pregnancy gingivitis – Since your gums are more likely to become swollen, your risk of gum disease is heightened. Gum disease can significantly increase the likelihood of dental implant failure.
Use of anesthesia – Although local anesthesia is considered safe for those who are pregnant, dental implant surgery often requires stronger anesthesia, which comes with heightened risks. Pregnancy also takes certain antibiotics off the table, which might be necessary to prevent infection post-surgery.
How Can I Prepare for Dental Implants?
If you and your dentist have decided to wait until after you've given birth for your dental implant procedure, here are four helpful things you can do in the meantime to prepare yourself:
Quit poor dental habits including smoking, excessive drinking, chewing on ice, and using your teeth as tools.
Commit to an excellent oral hygiene routine.
Visit your dentist biannually for preventive oral care.
Eat a healthy and vitamin-rich diet and drink plenty of water.
Your oral health should always be one of your top priorities; it's not something to neglect, especially while you're pregnant! If you're unsure about how your pregnancy might affect your dental implant eligibility, don't hesitate to talk with your dentist about your options.
About the Practice
The DFW Dental Implant Center is honored to serve patients and families in Colleyville and the surrounding area under the leadership of Dr. Steven Branberg and Dr. Eric Cancemi. Together they combine several decades of collective experience to provide an exceptional level of dental care. Their practice is pleased to offer many available services including dental implants. If you have any questions about dental implants or would like to schedule a visit, don't hesitate to contact the practice online or over the phone: (817) 440-7133.
Comments Off

on Can I Still Get Dental Implants If I'm Pregnant?
No Comments
No comments yet.
RSS feed for comments on this post.
Sorry, the comment form is closed at this time.