June 8, 2022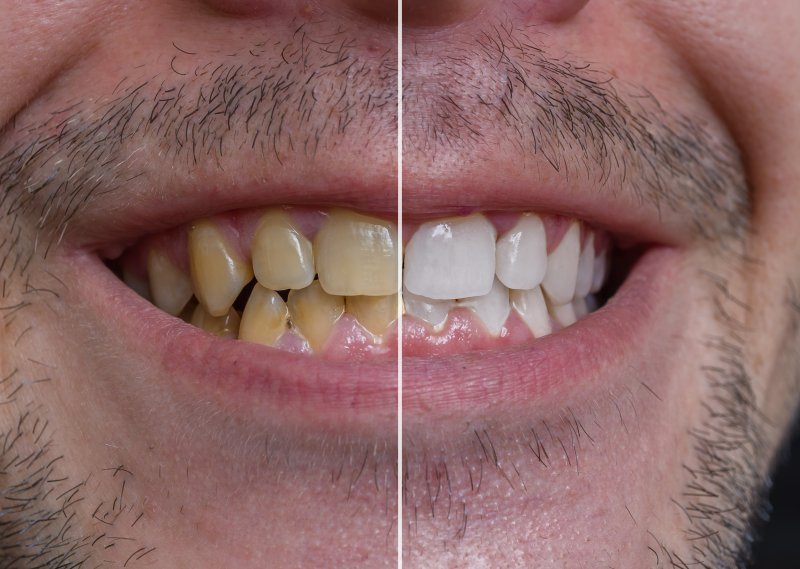 Yellow teeth often ruin what would otherwise be great smiles. Even if someone has avoided severe conditions like cavities or gum disease, tooth stains can make them look dirty or unkempt. So then, why do teeth yellow in the first place? More importantly, what can you do about them?
Let your Fort Worth dentist answer these questions. Here's a summary of common causes and solutions to yellow teeth that'll put your smile back on track!
The Causes of Yellowing Teeth
Teeth can turn yellow for many reasons. Here are a few that you should consider:
Visible Dentin: Dentin — a tooth's middle layer — is a deep yellow to brownish material. It's usually unseen due to being covered up by the surrounding enamel. However, it can become visible to the naked eye when that enamel thins over time.
Teeth Grinding: Tooth grinding is when teeth are (often unconsciously) pressed together by the jaw muscles and made to move against one another. Also known as bruxism, it's usually done when people are stressed or asleep. It's known to harm tooth enamel due to weakening and yellowing the latter.
Fluorosis: You may have heard that fluoride is good for your teeth. That's true, but too much can cause a condition known as fluorosis. This excess fluoride then leads to yellow or brownish tooth spots.
The Solutions for Yellowing Teeth
Thankfully, there are multiple verified approaches for handling yellow teeth. When it comes to stains, you can either (1) prevent them, (2) remove them, or (3) hide them.
Prevent Stains:
Proper dental hygiene practices will help prevent yellow stains. These include the following:
Brush twice daily and floss once daily
See your dentist for regular checkups and cleanings
Don't use tobacco products
Drink beverages through a straw to minimize contact with teeth
Remove Stains (i.e., Teeth Whitening):
Generally, dentist-approved teeth whitening occurs either at home or in-office.
At-home teeth whitening has your dentist give you customized bleaching trays with gel. After wearing them for roughly thirty minutes per day over two weeks, your smile will be visibly whiter. Meanwhile, in-office whitening involves the dentist applying a bleaching agent directly to your teeth.
Hide Stains (i.e., Cosmetic Treatments):
Should you suffer from yellow teeth resistant to bleaching treatments, you could try an alternative procedure to hide your stains. For instance, your dentist could give you dental veneers to hide stained tooth surfaces under a porcelain layer. If the affected tooth is rotten or decayed, you could have it extracted and replaced with a dental implant.
Even if yellow teeth seem inevitable, they don't need to hurt your smile forever. You can ensure you spend little time with them by remembering the above causes and fixes.
About the Practice
The DFW Implant Center is based in Colleyville, TX. Led by Drs. Branburg and Cancemi, the practice offers dental care to its patients for reasonable prices. Their treatments thus span preventive, cosmetic, and restorative dentistry, including emergency dental services. Their work has earned them Dental Insider's "Best of Colleyville: Patient Satisfaction Award" two years in a row. For more information or to book an appointment, they can be reached at their website or by phone at (817)-440-7133.
Comments Off

on The Causes & Fixes for Yellow Teeth
No Comments
No comments yet.
RSS feed for comments on this post.
Sorry, the comment form is closed at this time.