May 4, 2022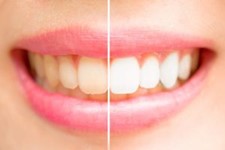 Do you have teeth that constantly seem stained and dull despite your best efforts? There are many reasons for tooth discoloration, but some of them are actually hereditary! Your genetics can heavily influence your enamel and in turn, the color of your teeth—even if you practice good oral hygiene! Here's what you need to know about this connection, along with some cosmetic treatment options that can help you get your smile back on track.
How Can Genetics Influence My Tooth Color?
It seems like some people are just born with a naturally whiter smile than others; this is absolutely the case! There are those that have lucked into gorgeous teeth via genetics—sometimes thicker, whiter enamel simply runs in the family. Conversely, others are genetically pre-disposed to teeth that darken over time. There are two inherited conditions that can cause this discoloration:
"Amelogenesis imperfecta" is characterized by soft, fragile enamel that is yellowish-brown. This condition is caused by genetic mutations that you have no control over; it greatly increases the risk of tooth decay and makes your teeth much more vulnerable to fracturing!
"Dentinogenesis imperfecta" can affect baby and permanent teeth, causing your enamel to appear grayish-blue and transparent. It also makes your teeth very brittle and susceptible to damage.
What Else Can Stain My Teeth?
While genetics can be the cause of tooth discoloration, it isn't the only cause. Other things that can stain your teeth include:
Foods and beverages with staining agents (coffee, tea, red wine, berries, etc.)
Smoking and chewing tobacco
Poor oral hygiene
Your enamel is very important to your teeth; not only does it protect them, but healthy enamel gives your teeth a resplendent white shine. Be mindful of the many substances out there that can damage your enamel; once it's gone, it's gone for good!
How Can I Treat My Stained Teeth?
Luckily, there are many options for treating stained teeth! Although patients with hereditary discoloration might not have much success with store-bought whitening products, professional whitening performed by your dentist is a fantastic option. These results are incredibly impressive and fully visible within two weeks, and they're very long lasting—typically between 6 months and 3 years. Many dentists offer in-office whitening or can send you home with a whitening kit; both options are viable, and it mostly depends on your individual needs.
For patients with weakened and tarnished teeth (especially from genetically inherited conditions), restorative dentistry is also an option. Solutions including porcelain crowns, bridges, and dental implants can all be used to provide additional stability to your teeth while also giving them an improved appearance.
If you're tired of having stained teeth and feel as though there's nothing you can do about it, don't despair—solutions exist to solve tooth discoloration, even if it's caused by your genes!
About the Practice
The DFW Dental Implant Center is proud to serve patients and families in Colleyville and the surrounding area! The practice is led by Dr. Steven Branberg and Dr. Eric Cancemi, who both have several years of experience and expertise in a wide variety of fields. They are pleased to offer many available services including cosmetic options like teeth whitening! If you'd like to schedule an appointment, please visit their website or give them a call: (817) 440-7133.
Comments Off

on Can Genetics Cause Stained Teeth?
No Comments
No comments yet.
RSS feed for comments on this post.
Sorry, the comment form is closed at this time.