April 19, 2021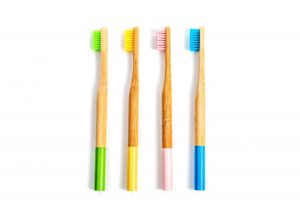 Are you feeling inspired to help protect the planet? If so, now is the perfect time – April 22nd is Earth Day, after all! Every little bit helps, and doing your part could be as simple as changing up your dental hygiene routine. For instance, you could save about 200 gallons of water each month just by turning off the water while you brush your teeth! One definite way to make a positive impact, though, is to switch up the cleaning products you use every day. These four eco-friendly oral hygiene products can keep your smile healthy and save the environment at the same time.
Bamboo Toothbrush
You should never use the same toothbrush (or head of an electric toothbrush) for more than three or four months – after that, it becomes less effective at cleaning your teeth. With that in mind, you can imagine how many plastic toothbrushes the average person throws away in their lifetime. That's why more environmentally friendly alternatives, like bamboo toothbrushes, have grown extremely popular in recent years. Bamboo is fully biodegradable, making it an excellent material for toothbrushes.
Zero-Waste Mouthwash
Rather than purchasing giant plastic bottles of mouthwash, you can now buy mouthwash tablets that tend to come in glass containers. All you have to do is drop one of these tablets in a glass of water and rinse like any other mouthwash. This is a great way to keep your teeth and gums clean while minimizing plastic waste.
Plastic-Free Dental Floss
You can also reduce your daily plastic use by purchasing a different type of dental floss. Traditional floss (and especially single-use floss picks) creates a great deal of plastic waste that cannot be recycled. Plenty of companies make dental floss from biodegradable silk instead. Some of them even sell floss in cardboard or glass containers to completely eliminate plastic usage.
Water Pick
If you want a flossing solution that produces no waste while also being easier to use, a water pick may be right for you. This handheld device shoots a steady stream of water between the teeth to remove plaque, food particles, and other debris. Simply turn it on, clean between your teeth, and you're done – no need to throw anything away!
Of course, no oral hygiene routine is complete without regular checkups and cleanings with your dentist. If it has been more than six months since your last appointment, give your dentist a call. They can recommend even more at-home dental hygiene products to keep your smile healthy and bright!
About the Author
Dr. Steven Branberg is a dentist in Colleyville, TX who achieved his Doctor of Dental Surgery degree from the University of Southern California School of Dentistry. He also earned his Certificate in Prosthodontics there. At The DFW Dental Implant Center, he provides top-notch restorative care, including dental implants and dentures. However, he also aims to educate his patients on proper dental hygiene so that they don't need these treatments! For more information on eco-friendly oral hygiene products, visit Dr. Branberg's website or call (817) 498-3331.
Comments Off

on 4 Eco-Friendly Oral Hygiene Products to Help You Go Green for Earth Day
No Comments
No comments yet.
RSS feed for comments on this post.
Sorry, the comment form is closed at this time.