March 7, 2021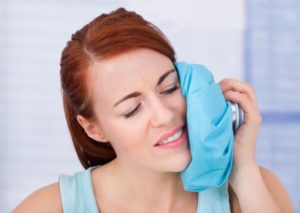 Tooth pain can vary in intensity, with some situations being so acute that patients have no choice but to seek immediate dental treatment. Does this mean that mild tooth discomfort is okay to ignore? Continue reading to find out whether you should seek emergency dental care for all forms of tooth pain.
A Basic Rule of Thumb About Pain
The amazingly designed human body has an intricate web of neurons and cells that continuously transmits information, which is called the nervous system. Without it, simple activities like picking up a cup or brushing your teeth wouldn't be possible. In addition to providing the initial "spark" that allows your muscles to move, nerves serve as messengers, alerting of danger. One way they do this is by sending pain signals when there is an infection or injury. The purpose is to warn you that something needs to be done before the problem gets worse.
How You Should Respond to any Tooth Pain
A toothache can vary in severity from mild to extremely painful. The mistake that many patients make is to postpone seeking treatment for the milder conditions until they become unbearable. As previously mentioned, tooth pain is a warning sign that should be heeded.
Is a toothache a dental emergency?
To be on the safe side, you should treat any discomfort seriously and immediately contact your local dentist to schedule a visit. Until you can be seen, here's what you can do to get some temporary relief:
Carefully floss around the pain site to make sure there is no food lodged.
Rinse your mouth with a saltwater solution to neutralize oral bacteria.
Take ibuprofen to temporarily quiet the pain.
Apply ice to the outside of your jaw to reduce any swelling.
The Danger of Ignoring Tooth Pain
If your tooth pain is the result of an infection, ignoring it could lead to the permanent destruction of the ligaments and bone that provide support at the root level. Thus, the tooth could dislodge. The infection can also spread to other parts of the body to cause life-threatening problems.
The Typical Treatment for Tooth Pain
Most toothaches are the result of an infection that has traveled to the sensitive parts of the tooth. In such a case, a basic filling won't suffice to restore the tooth. The typical treatment is root canal therapy, which involves a dentist making a small incision to gain access to the decayed tissue, removing it and cleaning the area, and filling and sealing the tooth.
The tooth will be temporarily capped to prevent injury while a dental lab fabricates a permanent crown that will be added at a second appointment. Once it arrives, the dentist will invite you back to the office to permanently place it.
So is a toothache a dental emergency? The best way to know for sure is to pay an emergency dentist a visit, as it's always better to err on the side of caution. In doing so, you can put an end to your pain and have your oral health restored without having to endure more complex issues.
About the Author
Dr. Steven Branberg earned his dental degree from the University of Southern California School of Dentistry. Throughout his career, he has remained up to date with the latest advancements in dentistry by taking several hours of continuing education. Additionally, Dr. Branberg has given numerous presentations to general dentists in various aspects of prosthodontics. He provides emergency dental care at the DFW Dental Implant Center, and he can be reached for more information or to schedule a visit through his website.
Comments Off

on Do I Need Emergency Dental Care for My Tooth Pain?
No Comments
No comments yet.
RSS feed for comments on this post.
Sorry, the comment form is closed at this time.