February 25, 2021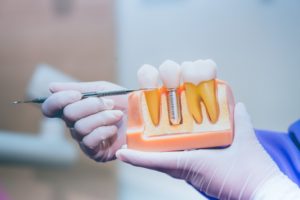 Over the last 50 years, millions of people have enjoyed the benefits of transformed smiles and restored oral functionality, thanks to dental implants. If you tend to associate tooth loss with a more mature crowd, you're not alone. However, you might be surprised to find out that many famous celebrities of all ages have dental implants! Keep reading to learn about all of the amazing benefits you can get from them.
Celebrities With Dental Implants
People with dental implants don't exactly go around broadcasting it, but they are much more common than you may think. In fact, they are so popular that many of your favorite celebrities have them:
Tom Cruise
Miley Cyrus
Demi Moore
Ed Helm
Nicolas Cage
Hilary Duff
Chris Rock
Morgan Freeman
George Clooney
Mike Tyson
Christie Brinkley
Regardless of your age or demographic, dental implants can be an option to restore your ability to speak and chew as you once did. As technology in the world of restorative dentistry evolves, it is likely that dental implants will continue to improve and become even more popular.
The Many Benefits of Dental Implants
When it comes to a smile makeover if you're missing teeth, dental implants are a wonderful option – but they do so much more than fill in the gaps. They improve overall oral functionality and help to increase dental health. Here are a few of the primary benefits they offer:
You Don't Have to Worry About Getting a Cavity in an Implant
That's right – titanium and porcelain are cavity-proof, meaning you won't have to worry about tooth decay with them. However, your surrounding teeth and gums are still susceptible to bacteria and infection, so it's just as important to care for the implants like you do your natural teeth.
Dental Implants Restore 70% of Chewing Functionality with a 95% Success Rate
Missing teeth aren't just a cosmetic issue. Eating can become a real struggle if you are living with missing teeth. You simply can't chew the same way, and this might mean missing out on some of your favorite foods. With dental implants, you don't have to miss out anymore! Plus, you can be confident in your investment because of their 95% rate of success.
They're More Affordable Than You Might Think
Dental implants are an investment, but one that you won't regret. As long as you care properly for them, they can last for decades. This means that you'll spend less money in the long run on costly treatments that could have been avoided with dental implants.
You'll Have More Confidence
Studies have shown that people who love their smiles are more likely to succeed in their careers, have better relationships, and enjoy an overall higher quality of life. Having a set of pearly whites you can be proud of will truly make all the difference.
These are just a few of the incredible benefits that can come with dental implants. If you've suffered tooth loss, you don't have to keep living with it. Talk to your dentist about dental implants as an option!
About the Practice
Dr. Steven Branberg and Dr. Eric Cancemi are your "go-to guys" when it comes to excellent restorative dentistry. They understand the struggles that can come with tooth loss, and it is their goal not only to give each of their patients the smiles of their dreams but also to improve their quality of life with dental implants. Their years of experience and training have equipped them with the knowledge and ability to provide the highest quality of care. Are you ready to talk about restoring your smile? Schedule a consultation with us online or call (817) 498-3331.
Comments Off

on Even Celebrities Have Dental Implants!
No Comments
No comments yet.
RSS feed for comments on this post.
Sorry, the comment form is closed at this time.