January 24, 2021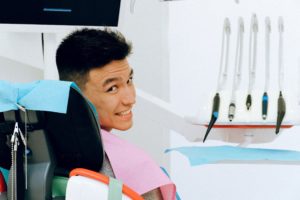 With the holidays behind you, what better time than now to recommit to your oral health? Although you have all year to visit your dentist, there are several benefits of scheduling a dental checkup early. Before you return to the hecticness of your daily responsibilities, here are 4 reasons to have your next preventive visit within a few weeks of the new year.
1. Your dental benefits were reinstated.
At the end of every calendar year, your dental insurance expires. Thankfully, your benefits are reinstated on January 1st if you pay your monthly premiums. You'll enjoy comprehensive coverage to keep your smile healthy for affordable rates. You might have all year to use your coverage, but less than 3% of Americans exceed their annual limits. You can make the most of your monthly investment by visiting your dentist early to maximize your yearly allowance.
2. Reduce your long-term oral health expenses.
Dental care focuses on prevention to keep your teeth and gums healthy to reduce the likeliness of needing a costly treatment in the future. Research shows every $1 spent on prevention can save as much as $50 on restorative and emergency services. You can get the routine cleanings and checkups you need using your dental insurance to save money throughout the year by maintaining a healthy smile.
3. Prevent dental emergencies.
You probably never expect it to happen to you, but 1 in 6 people has a dental emergency each year. As much as 16% of the population misses work annually because of oral health complications. While you can't fully stop one from happening, you can significantly lower your risk by visiting your dentist. A cleaning and checkup will help ensure there aren't any untreated issues lingering in your mouth that can turn into a big problem later in the year.
4. Give your confidence a boost.
If you're embarrassed by the health or appearance of your teeth, you might be insecure about your smile. As a result, you might feel limited in your career or avoid certain social settings. You can head into 2021 feeling confident by visiting your dentist. They'll remove any unsightly buildup and correct oral health issues that might cause you to hide your teeth. You'll be able to smile brightly to make the most of the upcoming months.
Achieve the Healthy Smile You Deserve
Before you resume your daily commitments, make sure a healthy smile is at the top of your priority list. There isn't any better time than now to invest in your teeth and gums. Besides improving your oral hygiene habits at home, schedule an appointment with your dentist this month to reach your oral health goals.
About Dr. Steven Branberg
Dr. Branberg earned his Doctor of Dental Surgery from the University of Southern California School of Dentistry and achieved his Certificate in Prosthodontics. He has the experience and qualifications necessary to create healthy smiles that last. If it's time for your next cleaning and checkup, contact our office today to schedule an appointment.
Comments Off

on 4 Reasons to Schedule a Dental Checkup Early
No Comments
No comments yet.
RSS feed for comments on this post.
Sorry, the comment form is closed at this time.