December 3, 2020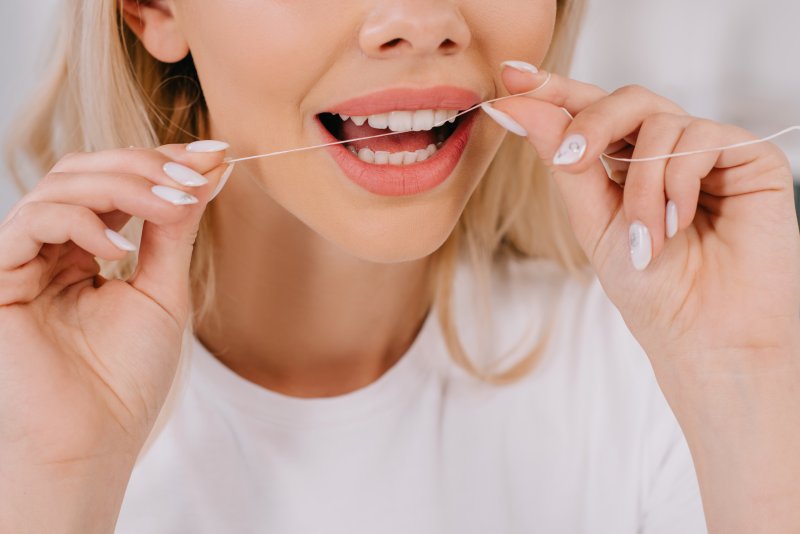 Do you dread the moment that your hygienist or dentist tells you that you need to floss more? There is only one solution, and it isn't as difficult as many of us make it out to be. However, so many people still slack on their daily flossing. The new year is a great time to make this change, but you will need to stick to it to see the benefits. Continue reading to learn why flossing is so important as well as get some tips to keep up with your New Year's resolution.
Why Is Flossing So Important?
Even though brushing twice a day goes a long way in keeping your smile in good health, it isn't enough. There are certain areas of your mouth that your toothbrush cannot quite reach. That's why dentists all over the world recommend that you floss at least once a day. This helps you to get rid of food particles, plaque, and bacteria from between the teeth and beneath the gumline. When this isn't removed, you are much more likely to develop tooth decay and periodontal disease.
How to Keep Up with Flossing This Year
As committed as you are, the following tips may help you to make your New Year's resolution a reality:
Ask yourself why you don't floss: If you are always exhausted when you get home at night, flossing may not be the number one thing on your mind. Set a reminder on your phone to go off right before bedtime or put a sticky note on your bathroom mirror. Don't like flossing? Purchase a floss holder or disposable flossers to make the job easier.
Set a realistic goal: You aren't very likely to go from no flossing to flossing every day. Try starting out with flossing twice a week and gradually increase until you're doing it daily. Commit to specific days ahead of time.
Remember the risks: If you don't floss, you are much more likely to end up with periodontal disease. This can lead to gum recession, loose teeth, and tooth loss. Periodontal disease is also linked to other health conditions like diabetes and heart disease.
Don't be surprised by bleeding: A lack of flossing usually means the gums are inflamed, so they may bleed the first few times a person flosses. This is normal and should stop after a few days. If not, a person likely has gum disease and needs to visit their dentist.
Reward Yourself: For every week or month that you floss without missing a day, allow yourself to have a little treat as a reward for your good work.
It pays to keep up with your oral health. By taking steps every day, like flossing, you will be able to show off a strong, healthy smile for many years to come. Good luck with your New Year's resolution!
About the Author
Dr. Steven Branberg earned his Doctor of Dental Surgery from the University of Southern California School of Dentistry where he also achieved his Certificate in Prosthodontics. He is currently a member of several professional organizations, including the American Dental Association, Texas Dental Association, and the American Academy of Prosthodontics. For more information on proper oral hygiene or to schedule an appointment at his office in Colleyville, TX, visit his website or call (817) 498-3331.
Comments Off

on How to Keep Up with Flossing During the New Year
No Comments
No comments yet.
RSS feed for comments on this post.
Sorry, the comment form is closed at this time.