October 22, 2020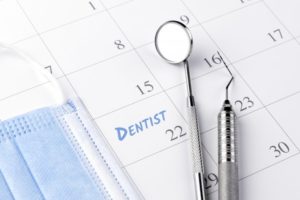 Taking care of your oral health by scheduling routine dental appointments is important, but since the emergence of COVID-19, many people are doubting how this seemingly simple process works. It's important that you don't skip out on your dental checkup and cleaning every six months, or else you'll leave your mouth susceptible to cavity formation and gum disease. Read on to learn about how to make your appointment and keep it during the COVID-19 crisis.
Scheduling a Dental Appointment During COVID-19
At the beginning of the COVID-19 pandemic, dentists across the country closed down to protect their patients and develop new, thorough safety precautions based on the recommendations of organizations such as the CDC and WHO. Now, their practices are helping prioritize patients' health and safety while allowing them to maintain their oral health. You can schedule an appointment with them by filling out an online form or calling their office directly. While they're on the phone, they can fill you in on how their new check-in policy works.
Fill Out New Patient Forms at Home
Many dentists make it easy for new patients to join their practice by putting up everything that you'll need to know to bring with you during your first appointment on their website. This includes new patient forms, medical history, and dental insurance information. These are all important details to have ironed out by the time you reach their office so you're not spending time ruffling through your wallet and bag trying to find your insurance card and trying to fill out everything in their waiting room. To make the appointment as seamless and contact-free as possible, have these printed and filled out by the time you reach their office so all you need to do is hand them to the front desk associate.
Read Up on Their Safety Precautions
This is an especially important step during the COVID-19 crisis because every office has different safety protocols that they're following. It's a good idea to check them out on their website so you're prepared for any new steps, like getting a health check when you walk through the door or making sure that you don't wear gloves. This way, you can know what to expect as soon as you walk through the doors.
Mark Your Calendar
If you have trouble making and keeping your dental appointments, be sure to mark the time and date yours is scheduled for on your calendar. You can also set a reminder in your phone to make sure that you leave on time and make it to your checkup and cleaning! Once your appointment is finished, you'll be able to have peace of mind knowing that you don't have any lingering problems that could impact your health as you continue to stay home.
About the Author
Dr. Steven Branberg has nearly a decade of experience underneath his belt and is dedicated to providing every patient that walks through his doors with individualized care. He hopes to keep his patients' smiles healthy by offering thorough preventive dentistry, and he has implemented dozens of new safety protocols to prioritize his patients' safety during the COVID-19 crisis. To schedule an appointment, visit The DFW Dental Implant Center's website or call 817-498-3331.
Comments Off

on Preparing for & Going to a Dental Appointment During COVID-19
No Comments
No comments yet.
RSS feed for comments on this post.
Sorry, the comment form is closed at this time.