September 22, 2020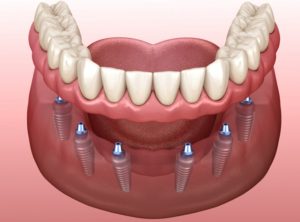 Traditional dentures have helped generations of patients to replace their lost teeth and regain their confidence. Not only do they look wonderful, but they also restore the ability to eat a wide variety of foods. However, many patients are now opting for dental implants instead. One of the primary reasons behind this trend is implants' ability to aid in jawbone preservation. Let's discuss why your jawbone may deteriorate after tooth loss and how dental implants can put a stop to this problem.
Tooth Loss and Bone Loss
Teeth have two main parts: the crowns and the roots. The crowns are what you see above the gumline, and the roots are anchored in the jawbone. Because of their bond with the surrounding bone, tooth roots stimulate the jaw and help to keep it whole and strong. Unfortunately, when one or more teeth are lost, the bone begins to be resorbed. That is to say, the body recycles the raw bone material for other purposes. Within the first year after a tooth is extracted, up to 25 percent of the nearby bone may disappear.
Why Traditional Dentures Cannot Prevent Bone Loss
Traditional dentures are removable prosthetics that consist of artificial teeth attached to a gum-colored base. A mild adhesive or natural suction helps them to remain in place during eating and speaking. However, while dentures are quite useful for restoring a degree of dental function, they come with some significant downsides. One of those is that they only replace the crowns of lost teeth, not the roots. They therefore do not stimulate the jawbone enough to stop it from being resorbed. According to some research, dentures may even accelerate the bone deterioration process.
Preserving Your Jawbone with Dental Implants
While the above information might seem a little disheartening, there is no need to lose hope for your jawbone. Dental implants can help it to stay strong and whole throughout your lifetime. These small titanium posts serve as prosthetic tooth roots; they stimulate the surrounding tissue and prevent it from deteriorating. Just a few dental implants, placed strategically throughout the jawbone, can support an entire arch of prosthetic teeth.
Bone health support is just one of the advantages that dental implants offer. They are also much sturdier than traditional dentures and have the potential to last for many decades.
If you have been asking yourself if dentures or implants are the better way to replace your lost teeth, the above information should certainly be a factor in your decision-making process. Implants are the only form of tooth replacement that helps to keep the jawbone strong, healthy, and whole.
About the Author
Dr. Steven Branberg earned his Doctor of Dental Surgery from the University of Southern California School of Dentistry, after which he went on to receive his Certificate in Prosthodontics from the same school. He offers numerous tooth replacement options, including both traditional dentures and start-to-finish dental implant treatment. To learn more about Dr. Branberg and how he may be able to help you maintain your jawbone's health after tooth loss, contact our office at 817-498-3331.
Comments Off

on Which One Prevents Bone Loss — Dentures or Dental Implants?
No Comments
No comments yet.
RSS feed for comments on this post.
Sorry, the comment form is closed at this time.