August 9, 2020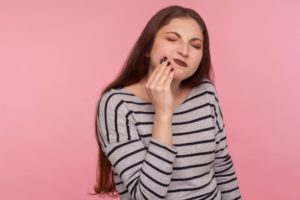 Swollen gums can feel like a nightmare. They might bleed easily when you brush, and they can make it difficult for you to enjoy your favorite snacks when you're watching the Cowboys' game or having a relaxing movie night with your family. However, discomfort might just be the beginning of the problem when it comes to swollen gums. A dentist in Colleyville is here to discuss why you might be experiencing this issue and what you can do to get your oral health back on track.
Reasons for Swollen Gums
The reasons for swollen gums can be divided into three categories:
Gum disease. Gum disease is an infection of the gum tissue, and inflammation and swelling are among its key symptoms. Left untreated, it can lead to severe oral and overall health complications.
Injury. Overaggressive brushing or flossing habits can irritate the gums and cause swelling. Certain foods might also contribute to swelling. For example, if the sharp edge of a chip jabs your gums, temporary swelling may occur.
Other. Chemotherapy, hormonal changes (such as those experienced during pregnancy), and tobacco use are a few other possible reasons for gum swelling.
Restoring Your Gum Health
If your swollen gums are due to an acute, minor injury, rinsing with warm saltwater and avoiding hot and spicy foods can help to manage the problem and expediate healing. If the swelling doesn't subside after a few days, that's a sign that you have a more serious problem that requires professional attention. At your checkup, your dentist will examine your gums and pinpoint the reason for the inflammation. Then, they'll recommend your next steps. Depending on the specifics of your situation, they might advise you to:
Adjust your brushing habits. You might need to use a lighter touch when you are brushing your teeth, or perhaps you need to be more diligent about brushing along the gumline.
Refine your flossing technique. Your dentist or hygienist can show you how to floss in a way that is both effective and gentle on your gums.
Use a mouthwash. A mouthwash that is specifically formulated for gum health can help to fight inflammation-causing bacteria.
Change your eating habits. A healthy diet can do much to combat swelling and inflammation throughout the body, including in the mouth. Vitamin C and calcium maybe particularly helpful for preventing swollen gums.
Schedule gum disease therapy. The most common type of gum disease therapy is a deep cleaning of the mouth, wherein your dentist removes harmful bacteria both above and below the gumline.
Are your gums swollen? Don't let what seems like a minor problem develop into a major oral health issue. You and your dentist can work together to protect your gum health and ensure your smile's long-term well-being.
Meet Our Practice
Drs. Eric Cancemi and Steven Branberg lead the team at DFW Dental Implant Center. In addition to offering comprehensive dental implant care, they also provide preventive dentistry. They recognize the importance of gum health, and they are pleased to give patients guidance to help them care well for this precious part of their smile. To learn more about our doctors, our practice, or the services we offer, contact us at 817-498-3331.
Comments Off

on Ouch! Why Are My Gums Swollen?
No Comments
No comments yet.
RSS feed for comments on this post.
Sorry, the comment form is closed at this time.