May 11, 2020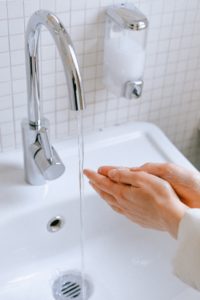 Every day, we learn more about coronavirus, but one thing remains unchanged. Hand washing and sanitizer are key to preventing the spread of COVID-19. This is an easy way to protect yourself and others because washing your hands has always been a part of your life. While you have a lot of practice washing your hands, simple mistakes can put yourself and others at risk. Here's what you need to know to properly clean your hands to keep COVID-19 at bay.
Stop the Spread of COVID-19
Proper hand washing is proven to remove harmful pathogens on your skin that can lead to several health issues, including viral infections. Not only do clean hands keep you healthy, but others as well because it stops you from spreading germs. Besides fighting cold and flu, hand washing is critical for stopping other infections, too.
Unfortunately, if you aren't using the correct techniques, you might be allowing harmful germs to linger on your hands, including coronavirus. Here are 5 simple tips to ensure you're properly disinfecting your hands:
Place your hands under clean, running water.
Use a generous amount of antibacterial soap on the inside and outside of your hands. Don't forget about your fingertips. Clean all surfaces of your hands for at least 20 seconds, which is equivalent to singing "Happy Birthday." This also includes any jewelry and your fingernails. Pay careful attention when cleaning the fingertips because they often touch the face, eyes, and nose.
Rub your hands back and forth and use your fingertips to gently scrub your hands.
Rinse your hands under running water to remove all the soap.
Completely dry your hands using a clean disposal towel or an air dryer. Don't let your hands dry on their own because germs love moist environments.
If you can't get to a sink, use an alcohol-based hand sanitizer.
Commit to Frequent Hand Washing
You know you're supposed to wash your hands before eating, preparing foods, and after using the restroom, but there are several other times throughout the day you should be hand washing, such as:
After returning from a public place.
After shaking hands, especially during virus outbreaks.
Before, during, and after preparing food.
Before and after caring for someone who is ill.
After using the bathroom.
Before brushing your teeth.
After blowing your nose, sneezing, or coughing.
After using public services.
Keep Your Hands Clean
Nowadays, it's more important than ever to keep your hands clean. Commit to washing your hands frequently to protect yourself and others from coronavirus.
About Dr. Steven Branberg
Dr. Branberg has provided comprehensive dental care in Texas since 2011. He's dedicated to keeping his patients healthy during the COVID-19 pandemic. Dr. Branberg and his team have undergone advanced training in awareness and prevention to stop the spread of coronavirus, including improved hand washing techniques. If you have any questions about the safety protocols we've implemented in our office, contact us today to speak with a member of our team.
Comments Off

on How Can Hand Washing Prevent COVID-19?
No Comments
No comments yet.
RSS feed for comments on this post.
Sorry, the comment form is closed at this time.