March 14, 2020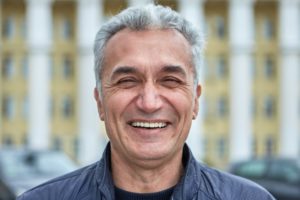 Would you like to restore your smile, but don't want to wait months in order for the process to be completed? You're definitely not alone, which is why certain prosthodontists offer Teeth-in-a-Day. Even though it sounds too good to be true, it's not! This procedure is a great option for patients who are missing an entire arch of teeth and would like to replace them with the latest restorative solution available, called dental implants. Read on to learn about how Teeth-in-a-Day works and why it could be the best treatment for your needs!
What are Teeth-in-a-Day?
Patients who are considering getting implant-retained restorations to replace their missing teeth may be turned off by the length of the timeline. The traditional implant procedure can take up to several months to complete, leaving patients in a long procedure-recovery cycle, especially if you need to have teeth extracted before your implants and restorations can be placed.
Teeth-in-a-Day is a great solution for patients that require a tooth extraction before their dental implant procedure because it combines the two appointments into one, so you don't have to wait as long to be able to enjoy your smile again. With this procedure, you can expect to have all of your teeth removed and your temporary versions placed in the same day. However, it does require multiple consultation and planning visits leading up to the big day.
Who is a Good Candidate For The Procedure?
Patients who are looking into getting dental implants but don't want to wait several months in order to have a complete smile again are the best candidate for the Teeth-in-a-Day treatment. Because it requires the placement of dental implants, we also look for other traits in patients to make sure that their procedure will be successful. Some of these include:
Sufficient jawbone density
Good oral health
Missing most or all of teeth on an arch
Don't have uncontrolled diseases such as diabetes that could impact their healing time
Willing to break bad habits such as heavy drinking and smoking that could cause their implants to fail
Not every patient is a perfect candidate right off the bat, which is why it's a good idea to consult with your dentist to find out how you can meet the criteria and qualify for dental implants.
Are There Any Other Benefits This Procedure Has To Offer?
Not only will you be able to enjoy a completed smile within a single appointment, but you'll also reap plenty of additional lifelong benefits from getting Teeth-in-a-Day. Some of these advantages include:
A strong bite
Fully functional smile
Easily maintained restorations
Natural-looking artificial teeth
Although the prospect of rebuilding your smile within a single procedure sounds like it has to be a myth, it's not! To find out for yourself, just visit your implant dentist to discuss the treatment timeline and how your new smile can fulfill your unique needs.
About the Author Dr. Branberg is a highly skilled implant dentist and prosthodontist, which means he knows everything there is to know about the art of creating and securing artificial teeth. He has completed additional education to earn his Certificate in Prosthodontics and is able to complete the entire dental implant procedure under one roof. He is also an active member of several professional organizations, including the American Academy of Prosthodontics. For questions or to schedule a consultation to learn more about Teeth-in-a-Day, visit The DFW Dental Implant Center's website or call 817-498-33
Comments Off

on Is It Really Possible To Get Teeth In a Day?
No Comments
No comments yet.
RSS feed for comments on this post.
Sorry, the comment form is closed at this time.