January 31, 2020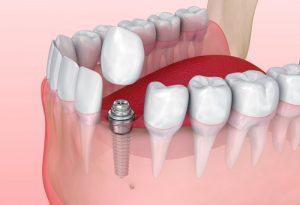 After you've experienced life with missing teeth, you'll be more than happy to fill the gap with an implant that lets you chew and talk normally again. But can you expect it to last? Dental implants are generally considered much more permanent than traditional dentures and bridges, but their longevity does largely depend on how you take care of them. Here's what you need to know about the lifespan of dental implants – and how you can extend it.
How Long Do Dental Implants Normally Last?
While the exact number will vary depending on several different factors, you can normally expect dental implant posts to last 30 years. In some cases, however, they could last for the rest of your life provided that your mouth stays healthy. Keep in mind that this only really applies to the titanium implant posts; the crowns and other restorations they support are more vulnerable to wear and tear, and you'll generally need to replace them more often.
What Can You Do to Make Dental Implants Last as Long as Possible?
Your priority should be to keep your prosthetic teeth clean while also keeping the rest of your mouth free of cavities and gum disease. Obviously, that means brushing and flossing on a regular basis in addition to having regular checkups with your implant dentist. These regular cleanings will remove harmful bacteria and debris that could eventually build up and lead to plaque and tartar, which can easily lead to gum disease if left alone. (An infection in your gums can ultimately weaken the jawbone to the point where it can no longer hold implant posts.)
Brushing dental implants is very similar to brushing natural teeth. Make sure to pay attention to the area under and around the false tooth. If you can't floss around the implant very well, look for nylon-coated interdental brushes or oral irrigators; they can help clean between the teeth like traditional dental floss, but many people find them easier to use.
You should also be careful in how you use your new teeth. Specifically, you should never bite down on peppermints, ice, popcorn kernels, fingernails, pen tips, or anything else that's hard. Doing so could crack your restoration and put stress on the implant post.
Finally, it's important to take the initiative in protecting your implant from injury. That means wearing a mouthguard while playing sports (even ones that are low contact). You may also need a mouthguard if you clench or grind your teeth at night.
Work with Your Dentist to Keep Your Implants
Remember, your dentist is your partner in making sure your implants stay safe in your smile. Be sure to ask for their advice for taking care of your new teeth, and get in touch with them right away if you think there's an issue that requires dental implant salvage procedures. With their help, you'll be able to maintain a healthier, fully intact grin for decades!
About the Author
Dr. Branberg began practicing in Texas in 2011. As a dedicated dentist and prosthodontist, he loves being able to help people in need by using dental implants to replace any number of teeth and restore their confidence as well as their overall oral health. To schedule an appointment at his practice, the DFW Dental Implant Center, visit his website or call (817) 498-3331.
Comments Off

on Can Your Dental Implants Last a Lifetime?
No Comments
No comments yet.
RSS feed for comments on this post.
Sorry, the comment form is closed at this time.