December 10, 2019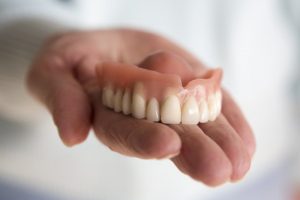 The first time you wear your dentures in Colleyville, they may feel uncomfortable for the first month or two as you adjust to the way they feel when you eat and speak with them. After that, they should become a normal and comfortable part of your life. If they aren't, they may need to be adjusted or completely replaced. Read on to learn some signs of ill-fitting dentures and why it's important to get issues with dentures addressed sooner rather than later.
Signs That Your Dentures Don't Fit Right
There are many signs that your dentures in Colleyville need to be replaced or readjusted. Over time, your gums will shrink due to the roots of your teeth no longer stimulating your jawbone growth. This can cause your restorations to become loose and cause a variety of uncomfortable symptoms. Here are some short-term signs that your dentures are ill-fitting:
The replacement teeth are broken.
You notice chips, cracks, or fractures in your restoration.
You have difficulty chewing food with them in.
They're uncomfortable to wear.
You've noticed your face has started to look droopy or saggy.
They slip or shift in your mouth.
Pressure sores have begun to develop on your gums.
They have caused raw spots, inflammation, and bleeding.
Oral sores and canker sores are developing on your gums.
Difficulty speaking with your restorations in.
They look stained or smell.
At the first sight of any of these symptoms, it's best to contact your dentist immediately to get the issues addressed before they get any worse.
The Importance of Getting Your Dentures Fixed
When the signs of ill-fitting dentures are left unaddressed, it can cause several long-term problems that can impact your overall health, quality of life, and comfort. Some of these include:
Inflammation of the mouth and lips, called stomatitis.
Ulcers in the gum that can expose the underlying bone and lead to infection.
Bacterial infection that can impact other parts of your body.
Oral cancer caused by chronic inflammation.
If Dentures Don't Fit Your Lifestyle, Here's an Alternative
Even if you're not experiencing any symptoms of ill-fitting dentures, it's still important to visit your dentist every six months for a checkup and cleaning. They can examine your mouth and give you tips on ways to keep it healthy. If your dentures don't seem to integrate with your lifestyle, you can also ask them about dental implants in Colleyville. This is a modern tooth replacement solution that restores the entire structure of missing teeth from the roots up. By placing titanium posts in your jawbone that will hold your restoration in place, you'll be able to enjoy added stability, security, strength, and even a longer denture lifespan. The best way to learn if this treatment is better for you is to schedule a consultation to find out if you're a candidate.
Although you may be tempted to brush off some of these common symptoms of ill-fitting dentures, they're incredibly important to address. Dentures are meant to make your life easier, not harder, which is why it's important to intervene in a timely manner if they're not doing their job. With guidance from your dentist, you'll be able to choose the best option for you and keep your smile looking beautiful and healthy!
About the Author
Dr. Steven Branberg has helped countless patients transform their smiles and improve their quality of life by providing them with beautiful and long-lasting prosthetics. He is able to complete the entire dental implant procedure, from beginning to end, himself. He is also an active member of several organizations, including the American Academy of Prosthodontics and the American College of Prosthodontics. For questions or to schedule an appointment to get your dentures examined, visit The DFW Dental Implant Center's website or call 817-498-3331.
Comments Off

on Do Your Dentures Fit Properly?
No Comments
No comments yet.
RSS feed for comments on this post.
Sorry, the comment form is closed at this time.