November 22, 2019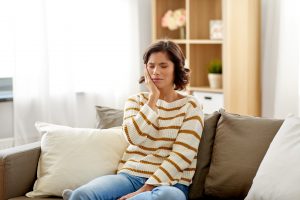 You have a painful toothache that's making your head pound and your gums throb. You've already called your dentist, but you have to wait a while for your appointment. What can you do about the pain in the meantime? Fortunately, there are plenty of remedies available at home and over the counter that help you stay as comfortable as possible while waiting to have your dental emergency in Colleyville treated. Read on to learn more about the causes of toothaches and what can be done about the severe discomfort they cause.
Common Reasons for Tooth Pain
So what is the underlying cause of your toothache? In many cases, the pain could be a sign of advanced tooth decay or gum disease – both possible consequences of not practicing good oral hygiene. A tooth might also hurt because it has been cracked or broken in an accident. For many people, wisdom teeth typically cause pain because there's not enough room in the mouth for them to erupt properly. Finally, sometimes the issue is as simple as something stuck between your teeth that can be removed; you should try flossing around the affected tooth to rule out this possibility before you move on to other forms of pain relief.
Over the Counter Remedies for Tooth Pain
Most over the counter general pain relievers should be able to help reduce your toothache pain. Acetaminophen is usually recommended for children while adults can choose from a wider selection of medications, such as ibuprofen or naproxen sodium. You can also try Orajel™ Toothache Pain Relief Gel or other products that are specifically meant to address tooth pain. Of course, you should always talk to a physician or dentist before trying a certain kind of medication.
Avoid using aspirin to treat tooth pain. If it comes in contact with your gums, it could cause a burning sensation as well as further damage in your mouth.
Home Remedies for Tooth Pain
In addition to painkillers, you can try some of these at-home remedies:
Rinse your mouth with 8 ounces of water mixed with half a teaspoon of table salt. Do not swallow the salt water.
Floss around the affected tooth to remove food particles and other debris that might be causing the pain.
Apply clove oil to the sore area, either by rubbing it on directly or dabbing at it with a cotton ball. The oil will numb the pain.
At minimum, avoid chewing with the side of your mouth where the pain is located, and do not drink any hot or cold beverages.
It should be emphasized that these treatments are only temporary solutions; you'll need to see your dentist in order to address the true cause of the pain. Act quickly to resolve the issue so that you can eat and smile without discomfort again!
About the Author
Dr. Steven Branberg is a dedicated Colleyville dentist in prosthodontist who has helped many of his patients transform their smiles and improve their dental health. He enjoys helping people in need and can provide fast relief and effective treatment for tooth pain. To schedule an appointment at his practice, the DFW Dental Implant Center, visit his website or call (817) 498-3331.
Comments Off

on Finding Over the Counter Relief for a Toothache
No Comments
No comments yet.
RSS feed for comments on this post.
Sorry, the comment form is closed at this time.