November 17, 2019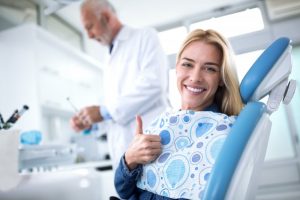 You've been thinking that your smile could use some work, so you're looking for a cosmetic dentist in Colleyville. But before you get too caught up in comparing cosmetic procedures, you need to keep in mind that sometimes a little additional work needs to be done to get your mouth in shape before you start worrying about the appearance of your pearly whites. In other words, sometimes you might need restorative dentistry before considering cosmetic dentistry. Read on to learn more about both services and how they can be used to create a new and improved dazzling grin for you.
Restorative Dentistry: Keeping Your Teeth Healthy
Restorative dentistry refers to treatments that resolve oral health problems and allow your mouth to continue functioning properly. These services are commonly required for cavities as well as missing or broken teeth. A dentist in Colleyville might recommend the following restorative treatments:
Crowns that protect damaged teeth (and are typically made from porcelain or other lifelike materials).
Dental bridges, dentures, and dental implants to replace any number of missing teeth so that you can eat and speak normally.
Fillings that reverse the damage done by tooth decay.
Cosmetic Dentistry: Creating Beautiful Smiles
As the name suggests, cosmetic dentistry is mainly focused with improving the appearance of your teeth. Note that in some cases, a restorative treatment can also serve as a cosmetic treatment. Of course, there are many different changes you might want to make, so your dentist could suggest several different procedures, such as:
Porcelain veneers that bond to the front of your teeth and can cover cracks, chips and other cosmetic flaws while also improving the size, shape and/or color of your teeth.
Tooth-colored crowns and fillings that blend in with the rest of the smile.
Porcelain onlays (or partial crowns) that simultaneously protect decayed or damaged teeth while also creating an aesthetically pleasing look.
Professional teeth whitening to get rid of stains or other kinds of discoloration.
So Which One Does Your Smile Need?
Whether your smile requires restorative treatment or cosmetic treatment depends largely on the state of your oral healthy and whether there are any notable improvements you want to make to your teeth. It's important to note that you don't necessarily have to choose between one or the other; you can talk to your dentist about teeth whitening and other cosmetic services once restorative work has been performed to make your mouth healthy again.
To figure out what your pearly whites need, schedule an appointment with your dentist; tell them about any concerns you have regarding the health of your teeth and what kind of changes you would like to make. Your dentist can then make a plan that will eventually have you grinning from ear to ear!
About the Author
Dr. Steven Branberg is an accomplished dentist and prosthodontist who is skilled in creating and placing dentures, partial dentures, and dental implants. He also offers several other restorative and cosmetic services meant to create healthier smiles. To schedule an appointment at his practice, the DFW Dental Implant Center, visit his website or call (817) 498-3331.
Comments Off

on Restorative Dentistry VS Cosmetic Dentistry: What Kind of Service Does Your Smile Need?
No Comments
No comments yet.
RSS feed for comments on this post.
Sorry, the comment form is closed at this time.