October 29, 2019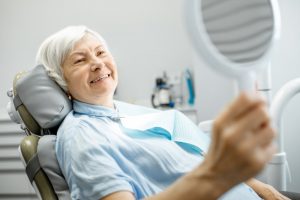 If you've decided to get dental implants, you're probably looking forward to new teeth that will let you eat and smile with confidence again. However, you might be nervous about the surgery itself, whether it's due to concerns about pain or just general dental anxiety. However, there's no need to worry; a good sedation dentist will help you stay comfortable throughout the procedure. Learn more about how sedation can be used in the process of repairing your incomplete grin.
When is Sedation Used During Dental Implant Placement?
Dental implants are surgically placed in your jaw, where they're left to fuse with the bone over a matter of months. Since this is a surgery, you'll normally, at the very least, receive a local anesthetic that will numb the area where the implant is inserted. However, additional forms of sedation might be used as well if the dentist decides they're necessary. It largely depends on the extent of the procedure and your personal comfort level. An anxious patient receiving multiple implants, for example, is likely to need a stronger form of sedation than a patient without anxiety that only needs one implant.
What Kinds of Dental Sedation are Available?
There are a few different kinds of sedation you may receive during dental implant placement depending on your needs:
IV Sedation: This is usually the preferred method for dental implant surgery due to the length of time of the procedure. The sedative is delivered directly to the bloodstream, causing the patient to relax very quickly. The level of sedation can be adjusted in real time to ensure you stay comfortable.
Oral Conscious Sedation: You'll receive a pill taken orally; the dosage depends on the level of sedation required. It will make you drowsy, but it doesn't put you to sleep. (Some patients might fall asleep, but they can be easily awakened.) You might not even remember the procedure afterwards.
General Anesthesia: Unlike a local anesthetic that only numbs one area, general anesthesia will make you completely unconscious. This isn't typically required for normal dental implant placement. However, if the surgery involves a bone graft (a transplant of bone tissue from another part of your body to give your jaw the extra height it needs to support implant posts), then general anesthesia might be the best option.
Keep in mind that for each of these forms of sedation, you likely won't be able to drive immediately after the surgery. You'll need to make arrangements for someone else to take you home. Your sedation dentist will let you know about any other preparations you need to make.
Feel free to ask what kind of sedation dentistry your practice offers for dental implant surgery and other procedures. Knowing what's available just might give you the confidence you need to move forward with a smile-saving treatment.
About the Author
Dr. Steven Branberg is a dedicated dentist and prosthodontist in Colleyville who loves to give his patients beautiful, functioning teeth. As a member of the American Academy of Prosthodontics, he's an expert in placing and restoring dental implants at his practice, the DFW Dental Implant Center. To ask about the procedure or what kind of sedation is available, visit his website or call (817) 498-3331.
Comments Off

on How Sedation Dentistry Can Help You Relax When Getting Dental Implants
No Comments
No comments yet.
RSS feed for comments on this post.
Sorry, the comment form is closed at this time.