September 9, 2019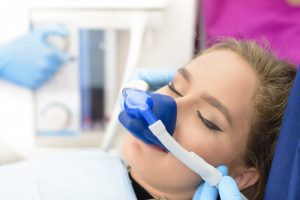 Have you ever been too scared of the dentist to get even a minor cavity treated? Do you have trouble sitting still long enough to receive dental care? Is your gag reflex so sensitive that even thinking about the dentist makes you nervous? Not to worry, a sedation dentist in Colleyville can solve all of those problems! Continue reading to learn how sedation dentistry can help you get the care you need despite your fear.
What Are the Types of Sedation Dentistry in Colleyville?
There are two main kinds of sedation dentistry:
Nitrous oxide sedation: If you just need a little help relaxing in the dental chair, nitrous oxide sedation may be right for you. This odorless gas will be administered through a mask worn over your nose, and within minutes, a wave of relaxation will wash over you. The mask will be worn throughout the appointment, and the amount of gas can be adjusted as needed during the procedure. Best of all, after the mask is removed, the effects wear off quickly, allowing you to drive yourself back to work once your visit is finished.
Oral conscious sedation: For moderately to severely anxious patients, oral conscious sedation is the answer to their prayers. You'll be prescribed a pill to take an hour or so before your appointment that will put you in a state of deep relaxation that will last for several hours. For this reason, you'll need someone to drive you to and from your appointment. During your procedure, you'll most likely stay awake, but you will have only the fuzziest memories of your visit.
When Is Sedation Recommended?
Dental anxiety isn't the only time a patient may need sedation. It's also suggested for patients who:
Have sensitive teeth, gums, or gag reflexes
Can't sit still for long periods of time
Have special needs
Require extensive treatment
Are There Any Side Effects?
Nitrous oxide may have some side effects if the amount being inhaled changes too quickly or if the level of nitrous is too high. Potential side effects are rare, but they may include:
Headaches
Nausea and vomiting
Excessive sweating
Shivering
Fatigue
With oral conscious sedation, you will feel drowsy for the rest of the day. After your procedure, you'll probably just want to go home and nap. Possible yet rare side effects may include:
Sluggishness
Low blood pressure
Headache
Nausea
Sedation dentistry is a great way to soothe your worries about the dentist. If you frequently experience dental anxiety, ask your dentist if they offer sedation as an option.
About the Author
Dr. Steven Branburg helps patients relieve their dental anxiety every day at The DFW Implant Center: Implant, Cosmetic & General Dentistry. His practice provides both nitrous oxide and oral conscious sedation to help you relax and overcome your dental fear. If dental anxiety is something you face regularly, contact Dr. Branburg on his website or call his office at (817) 498-3331.
Comments Off

on Scared of the Dentist? Sedation Dentistry Might Be Just the Thing for You
No Comments
No comments yet.
RSS feed for comments on this post.
Sorry, the comment form is closed at this time.