August 14, 2019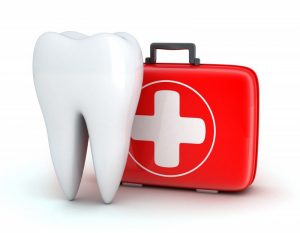 When a dental crisis occurs, all you want is relief from the pain. Because accidents happen when you least expect them, you can oftentimes be left wondering what to do and where to do. If you're wondering whether the dentist office or emergency room is a better place to seek treatment, allow an emergency dentist in Colleyville to explain why the ER shouldn't always be your go-to location for mouth-related injuries.

Types of Dental Emergencies
You've fallen down and busted your lip on the hardwood floor. As you grab your mouth, you feel immediate pain radiating through your soft tissues and teeth. The impact was hard, but you don't see anything that looks broken. Not all situations are easily identifiable as "dental emergencies." One important factor to remember is that if you are experiencing pain in and around your mouth or face, you should contact your dentist in Colleyville as soon as possible. What might not seem timely or important might actually cause serious harm if not treated quickly.
Some of the most common dental emergencies include:
Dental infection
Cracked or chipped tooth
Knocked-out tooth
Failing dental restoration
Lost filling or crown
Soft tissue damage
Why the Dentist Office is Best for Treatment
When accidents occur, it's natural to assume that the emergency room is the best place to go. After all, it does have "emergency" in its name. However, when it comes to dental injuries, your dentist is the best person to see.
Why?
Well, if the fact you won't need to wait hours in a waiting room filled with sick people isn't enough to sway you, there are several other reasons your emergency dentist can provide better and more clearly defined treatment:
Your dentist can customize your treatment plan to ensure the treatment you receive is appropriate for the problem you're experiencing.
Because of their background and expertise, they will be able to better diagnose the problem than a medical doctor.
A dentist can offer various solutions instead of focusing on just one method of treatment to get you in and out.
If your tooth has been knocked out, your dentist can only work to put it back into place if seen in a timely manner. If too much time has passed and the tooth cannot be put back, they can begin working toward possible implant placement to decrease the amount of time your mouth is missing a tooth.
Your dentist is equipped to handle all types of dental emergencies, unlike a hospital.
Only in situations of uncontrollable bleeding or a broken jaw where a trip to the emergency room is warranted and strongly encouraged, you should expect all other forms of dental emergencies to be easily treated by your dentist. By keeping your dentist on speed dial, these accidents can be quickly remedied, allowing you to get back to living your best life.
About the Author
Dr. Steven Branberg is a dentist and prosthodontist who has been practicing in Texas since 2011. Earning his undergraduate degree in biological sciences from the University of California at Irvine, he went on to receive his Doctor of Dental Surgery degree from the University of Southern California School of Dentistry. Additionally, he achieved his Certificate in Prosthodontics in 2011. Dr. Branberg and his team at The DFW Dental Implant Center understand emergencies can happen, which is why we can help you get relief when you need it most. Whether you have a broken tooth, soft tissue injury, or a small crack in the enamel, we're ready to help you. To learn more, contact us at (817) 498-3331.
Comments Off

on Dental Office vs. ER: Where an Emergency Dentist Recommends You Should Go
No Comments
No comments yet.
RSS feed for comments on this post.
Sorry, the comment form is closed at this time.