July 22, 2019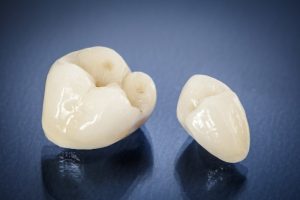 Whether it's for protecting a tooth that's been damaged by trauma or decay or for topping a dental implant, dental crowns can be a handy way to let you keep eating and speaking normally. Unfortunately, a false tooth can break just like a real one, and when it does it can be very painful; you'll need to act quickly to appropriately address the issue. Here's what you need to know about broken dental crowns in Colleyville.
Why Do Dental Crowns Break?
There are many reasons why a crown might break or become worn down, and while you can generally extend their lifespan with good oral health habits, sooner or later you'll have a problem. Common causes of dental crown complications include:
Age: On rare occasions, crowns can last a lifetime. Usually, though, they last about 5 to 15 years before becoming weaker due to natural wear and tear. The material used to make the crown is also a factor.
Grinding and Clenching: Whether it's a conscious habit or something that happens involuntarily during sleep, excessive grinding and clenching of the teeth can wear down crowns faster.
Hard or Sticky Foods: Popcorn kernels and nuts can damage the crown, and sticky foods such as gum and taffy can pull it out.
Installation: Sometimes there might be an issue during placement that can affect the crown's stability.
What Should I Do if My Crown's Broken?
A dental crown break can happen at any time, so keep the number for your emergency dentist in Colleyville close at hand at all times; you'll need to make an appointment as soon as possible so that you can receive a new restoration. Be sure to tell the practice whether you're in pain so that they know to prioritize you as an emergency case.
In the meantime, here are some steps you can take to make sure you're as comfortable as possible while waiting for your appointment:
If the crown is still attached, remove it so that you don't accidentally swallow it. You'll also want to check for broken pieces.
Gently rub your tongue on the affected tooth to check for jagged edges; if you find an area that could cut or irritate the soft tissues in your mouth, you can place dental wax over them.
Use ibuprofen or another over the counter pain medication to control any discomfort.
The above steps are only measures for temporary relief until you can get to the dentist's office.
Speak with your dentist about taking care of your dental crown and what steps you can take to avoid a serious emergency; you might also ask about recommendations for an emergency dental kit. Taking care of a dental crown is much like taking care of your natural teeth: you always want to be prepared for the worst-case scenario ahead of time.
About the Author
Dr. Branberg enjoys using his talents in math, science and art to help people through dentistry. His practice, the DFW Dental Implant Center, offers customized dental crowns for patients with broken or missing teeth; a variety of materials, including porcelain, zirconia and Bruxzir are available. He can also make sure you get the care you need for a broken crown during an emergency. To schedule an appointment, visit his website or call (817) 498-3331.
Comments Off

on What to Do if Your Dental Crowns in Colleyville Break
No Comments
No comments yet.
RSS feed for comments on this post.
Sorry, the comment form is closed at this time.