July 19, 2019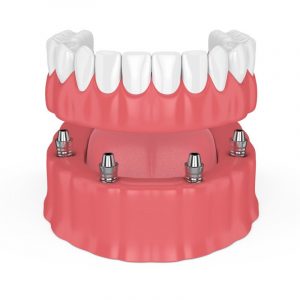 Your dad's been living with dentures for a while now, and while they generally do a great job of letting him eat and speak as normal, he finds that they keep coming loose; worse yet, he's had problems with them breaking in the past after accidentally dropping them. He's beginning to wonder if there's a better solution – and the good news is there just might be! Here's why dental implants might be an excellent upgrade for dentures in Colleyville.
How are Dental Implants Used with Dentures?
An implant is a post that interfaces with the jawbone and serves as the root for artificial teeth. A single implant usually supports a crown, but two to four implants can be used to support a denture. Compared with traditional dentures that rest directly on the gumline, dentures attached to implants are much more stable.
What Benefits Do Implant-Retained Dentures Have?
Implant dentures in Colleyville are held firmly in place without the need for adhesive or relying on natural suction of the gums; you won't need to worry about them slipping out of place while chewing or talking. Furthermore, sometimes your false teeth can be attached to your dentures permanently; you won't need to worry about dropping them or weakening them whenever you take them out. All you'll need to do is brush and floss as your normally would. (That said, some implant-retained dentures are still removeable and need to be taken out for cleaning.)
Your dentist in Colleyville will also often recommend dental implants to help maintain a strong jawbone. Missing teeth often lead to bone loss due to no longer providing stimulation from chewing, and normal dentures won't prevent this from happening. Implants take the place of tooth roots, keeping the jaw from deteriorating and allowing you to maintain a more youthful look; this also means you won't have to deal with your false teeth becoming ill-fitting over time.
Finally, implant-retained dentures will provide chewing strength almost on par with natural teeth, meaning there are little if any diet restrictions.
Am I a Candidate for Implant-Retained Dentures?
There are a variety of factors that might complicate a dental implant procedure. For integration to be successful, there needs to be adequate bone height in the jaw; if there's already been too much bone loss, grafts might be needed before implants can be successfully placed. Also, smoking, diabetes and other health issues can disrupt your mouth's ability to heal, which can lead to implant failure; the state of your health will need to be fully evaluated before a course of action can be decided on.
If you'll need replacement teeth in the near future or are thinking of upgrading your traditional dentures, ask your dentist about implants and whether they'd be a good option for your situation. If they're right for you, they can be life-changing!
About the Author
Dr. Branberg is a dedicated dentist and prosthodontist who enjoys helping patients transform their smiles in a way that keeps them healthy and confident. He provides high-quality dental implants that can replace a single tooth or support an entire denture. To schedule an appointment at his practice, the DFW Dental Implant Center, visit his website or call (817) 498-3331.
Comments Off

on Dental Implants: A Solution to Broken Dentures in Colleyville?
No Comments
No comments yet.
RSS feed for comments on this post.
Sorry, the comment form is closed at this time.