June 24, 2019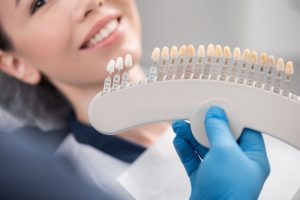 When you go out with your friends and start chatting with new people, do you feel the need to hide your smile because you're embarrassed by its imperfections? You've always wanted an impressive grin that you felt comfortable proudly flashing to catch someone's attention from across the room, but you're not sure what cosmetic solution would be best for you. Getting porcelain veneers in Colleyville can do more than just fix crooked and misaligned teeth. Learn how you can get a bright and seamless smile that you're proud to show off below.
What Are Dental Veneers?
Porcelain veneers are durable and sturdy custom-crafted shells that go over the visible portion of your tooth to conceal a variety of imperfections and improve your appearance. They're typically made from porcelain or resin composite material. Not only do they blend in with the rest of your smile, but they also offer several other benefits.
What Problems Can Veneers Fix?
Porcelain veneers can fix most, if not all, of your cosmetic imperfections. Some problems that this procedure can solve include:
Discolored teeth due to factors such as natural staining, medication, smoking, or excessive fluoride exposure.
Worn down teeth caused by bad oral habits such as teeth grinding.
Chipped or broken teeth because of dental trauma.
Misaligned, uneven, or oddly shaped teeth that noticeably detract from your smile.
Gaps between your teeth.
Instead of investing in multiple procedures, your cosmetic dentist in Colleyville can take care of all of these problems with one simple treatment.
What Are Some Benefits Veneers Have To Offer You?
While most cosmetic procedures have downsides and need to be replaced or redone every few years, porcelain veneers can last between 10 and 15 years when they're properly cared for. Some additional benefits that this procedure boasts include:
They look natural and blend in with the rest of your smile.
Porcelain doesn't typically irritate gums or oral tissues.
Porcelain veneers are stain-resistant.
The procedure typically doesn't require extensive preparation.
Veneers don't require any special maintenance, just follow typical good oral hygiene practices.
It is important to keep in mind that this procedure typically takes place over the course of three appointments. These include the consultation, preparation, and finally, bonding your custom-made veneers to your teeth. Whether you need a couple of teeth or all of your visible teeth done, porcelain veneers can do it all.
Although veneers can be seen as a costly cosmetic procedure, they last longer and provide you with impressive results compared to alternatives such as cosmetic bonding. If you have a variety of imperfections to fix, you won't have to invest in multiple procedures. Before you know it, you'll be enjoying a smile you're proud to share with other people and improved self-confidence.
About the Author
Dr. Steven Branberg has been practicing in his community of Colleyville since 2011. He loves helping patients achieve their dream smiles by providing them with a variety of cosmetic services. He achieved his Certificate in Prosthodontics in 2011 and has given many presentations on aspects of prosthodontics. He is also an active member of five different professional organizations so he can keep up with the most recent advancements in his field. For questions or to schedule a consultation for porcelain veneers, visit The DFW Dental Implant Center's website or contact 817-498-3331.
Comments Off

on How Can Porcelain Veneers In Colleyville Improve Your Smile?
No Comments
No comments yet.
RSS feed for comments on this post.
Sorry, the comment form is closed at this time.