April 29, 2019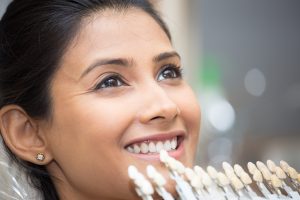 Your discolored teeth. You want to fix them, but professional teeth whitening hasn't proved effective. Besides, even when it does work, the staining returns within a few years anyway. Well, there's another solution that gives you a brighter smile that you'll be proud to show off both now and down the road—porcelain veneers in the Colleyville. But porcelain veneers too need to be maintained in order to continue to look good over time. In this post, learn about how they work and how to preserve your beautiful smile for longer.
How do porcelain veneers resist stains?
As very thin sheets of ceramic material, porcelain veneers are placed on the front surfaces of your teeth to cover up many kinds of cosmetic imperfections, including discoloration. Compared to the enamel in your teeth, porcelain veneers are not nearly as porous, which means that they don't absorb or retain the staining substances that they are exposed to as easily as your natural teeth do. They are also typically coated with a resin that resists stains even more.
How can I extend the lifespan of my porcelain veneers?
As strong as porcelain veneers are against staining, they eventually do become affected by prolonged exposure. However, with the proper care, your porcelain veneers can last for about 10 years or perhaps even longer. Here some tips for making that happen.
Avoid Staining Foods, Drinks, and Habits
Over time, the same things that cause discoloration in your natural teeth can impact your veneers. In addition to being harmful to your health and teeth, smoking damages your porcelain veneers. If possible, kick this habit to prolong their effectiveness. As far as your diet goes, the main stain-causing culprits are coffee, tea, dark sodas, red wine, soy sauce, and tomato sauce. If cutting these from your life isn't a realistic option, you can rinse your teeth after consuming them to reduce their accumulative effect on your teeth and veneers. Also, consider drinking dark fluids through a straw so that they avoid your teeth altogether.
Do Not Use Whitening Toothpaste
Initially, it may seem counterintuitive to avoid whitening toothpaste to keep your smile bright. However, it is more abrasive than regular toothpaste, scraping the protective layer of resin and the smooth ceramic surface of your veneers. This makes it easier for discoloration to develop in your veneers. Instead, use a gentler fluoride toothpaste to clean your teeth.
Visit Your Dentist for Checkups and Cleanings
Every six months, you have a dental checkup and cleaning appointment with your cosmetic dentist in Colleyville. During the process, your dentist can inspect your dental work, including your veneers, to ensure that everything is still functioning well. If they detect that your porcelain veneers are damaged, they can replace them so that your smile remains impeccably beautiful. After this dental exam, all the surfaces of your teeth—including the porcelain veneers in front—are polished, removing surface stains. By attending this appointment twice a year, you can keep your smile brighter for longer.
The confidence you gain from having porcelain veneers can continue for years, long after professional teeth whitening has faded—if you're willing to take care of them. By following these tips, you'll get the most use out of your investment in porcelain veneers, and you'll be able to enjoy a more attractive smile. If you have more questions about porcelain veneers, contact your dentist in Colleyville.
About the Author
Although he has a certificate in prosthodontics, Dr. Steven Branberg has many specialties in dentistry, including cosmetic dental procedures like porcelain veneers. In 2011, he opened The DFW Dental Implant Center, where he is able to provide truly comprehensive dental care and allow his patients to receive all the treatment they need in one place. To schedule an appointment with him, call (817) 498-3331 or click here.
Comments Off

on Do Porcelain Veneers in Colleyville Stain?
No Comments
No comments yet.
RSS feed for comments on this post.
Sorry, the comment form is closed at this time.