April 5, 2019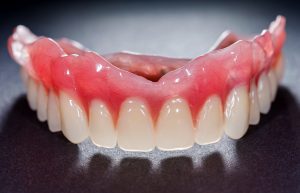 Are you among the 35 million people who do not have any remaining natural teeth? Dentures in Colleyville are a convenient and effective solution to rebuild your smile. Now, new methods and materials used to make them allow them to have a more realistic fit and appearance. As a result, you may expect them to feel just like your natural teeth as soon as you place
new dentures
in your mouth; however, there is an adjustment period. Here are 6 tips to help make this transition easier so they feel less awkward in your mouth.
6 Tips for New Dentures
Have Realistic Expectations
Despite new advancements in dentistry, your dentures will never truly feel natural, so it is important to set realistic expectations. That does not mean your dentures will always feel out of place. Instead, it will take a few weeks for you to get used to them, but soon you will be able to chew, speak, and smile without a second thought.
You can enjoy many of your favorite foods again after you receive your new dentures, but it will take practice. It is best to start with soft foods cut into small pieces. You want to chew slowly using both sides of your mouth to prevent irritation. Be careful when eating foods that are hot, hard, or have sharp edges.
Your dentures may feel a bit bulky at first, which can make speaking difficult. You can help practice pronouncing your words clearly by reading out loud or repeating words you are having difficulty with.
There is no "one size fits all" adhesive. If you are experiencing slipping or irritation, you may need to try a different adhesive. If the problem persists, address it with your dentist in Colleyville because your dentures may need to be adjusted.
Although you should wear your dentures as often as possible to help your mouth adjust, it is also important to take a break when necessary. Take your dentures out at bedtime and place them in a soaking solution that will sanitize them while you sleep.
Even if you do not have any remaining natural teeth, you will need to clean your mouth twice a day. Use a soft-bristled toothbrush to clean your gums, tongue, and roof of your mouth at night and in the morning.
Rebuild Your Smile Today!
Dentures are an excellent solution to rebuild a beautiful, functional smile. Your dentist will create a high-quality, durable prosthetic that looks and feels natural. With these 6 tips, you will soon forget you are even wearing dentures.
About Dr. Steven Branberg
Dr. Steven Branberg
works to improve the appearance and function of the teeth using the latest restorative techniques. He specializes in crowns, bridges, dentures, and implant restorations while also providing the services you need to replace your missing teeth. If you are ready to complete your smile, contact our office today to
schedule your consultation
for dentures.
Comments Off

on 6 Easy Tips to Adjust to New Dentures in Colleyville
No Comments
No comments yet.
RSS feed for comments on this post.
Sorry, the comment form is closed at this time.