March 15, 2019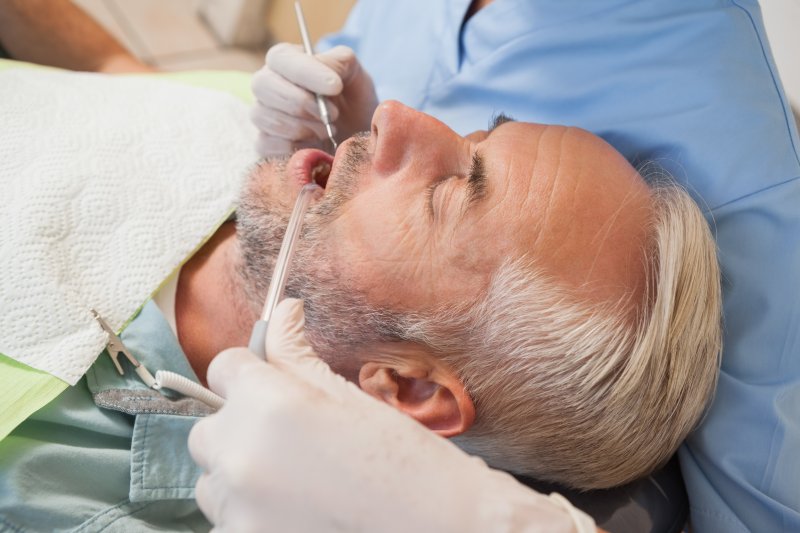 It doesn't matter how many times you go to the dentist, each time an appointment is looming, you find yourself breaking into a sweat. All the buzzing, scraping, and suctioning makes you queasy, but you know you can't avoid it. What do you do? If anxiety and fear are making it difficult to prepare for your upcoming dental appointment, let a sedation dentist in Colleyville explain the benefits of sedation dentistry.
What Are the Different Types of Sedation Dentistry?
Whether you're hesitant about a general cleaning or upcoming dental implant procedure, sedation dentistry in Colleyville can help put you at ease. Your dentist's goal is to ensure you are comfortable during your dental visit, so you might be surprised to learn about the different types of sedation offered.
Nitrous Oxide
Everyone knows this by another name, "laughing gas," but its effects work well at calming your nerves. Once you're in the dentist chair, your dental hygienist will place a mask over your face. You'll breathe in the substance, and before you know it, you'll be calm and relaxed. But don't worry, you'll remain awake and alert enough to respond to your dentist's directions.
Considered the mildest form of sedation, the effects wear off quickly, allowing you to transport yourself to and from the appointment.
Oral Conscious Sedation
If your level of anxiety is high enough that nitrous oxide won't be enough, your dentist may suggest oral conscious sedation. You'll receive a pill that's to be taken one hour before your appointment. Once you are ready for the procedure, the dental team will administer additional anesthesia to ensure your brain will block any fear receptors. Just like nitrous oxide, you'll remain alert to respond to the dentist, but you'll be extremely relaxed. In fact, you'll be so comfortable you may not even remember the procedure after it's completed.
This level of sedation does require some time to wear off, so it's strongly suggested that you have someone bring and pick you up from your appointment.
IV Sedation
The most powerful sedation method is administered through an IV. You'll receive a powerful sedative that is pumped into your veins. Don't expect to receive this sedation technique for a general cleaning, as it's used for patients who need extensive surgical procedures. Throughout the surgery, an anesthesiologist will be on hand to make sure the sedation levels are safe. And yes, you will need someone escorting you to and from the dentist office.
What Are the Benefits of Sedation Dentistry?
When asking about the benefits of sedation, the first thing that comes to mind is obvious: it reduces your anxiety. While this is, in fact, one of the great benefits, there are other reasons sedation dentistry is helpful.
It reduces pain. Sometimes, a general cleaning can be a bit painful, especially if there is a lot of bacteria and plaque buildup around the gum line. While under sedation, your brain is unable to register pain, so you will have a nice, relaxing experience.
It prevents bad memories. While nitrous oxide may not eliminate the memory of your dental visit, certain methods (Oral Conscious and IV Sedation) can keep you from remembering your procedure. Anxiety comes from bad experiences; however, if you're sedated during your visit, future dental anxiety may be lessened.
No distractions. No one wants their dentist to accidentally slip while performing a dental procedure. With sedation dentistry, you won't be wincing, cringing, or moving around while your dentist works, allowing for a quicker procedure.
It's understandable why so many people fear going to the dentist; however, it doesn't have to be that way anymore! Talk to your dentist about available sedation dentistry options, and make dental anxiety a thing of the past.
About the Practice
Does the idea of going to the dentist cause you to become anxious? We understand, and at DFW Dental Implant Center, we offer a variety of sedation dentistry techniques to help put you at ease. Our office provides a calm, welcoming, and comfortable atmosphere. Using the highest quality of dental care available, you will receive personalized care you can trust. To learn more about our office, contact us at (817) 498-3331.
Comments Off

on Experiencing Dental Anxiety? Let a Sedation Dentist in Colleyville Help
No Comments
No comments yet.
RSS feed for comments on this post.
Sorry, the comment form is closed at this time.