December 18, 2018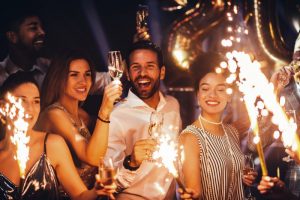 Think back to the last time you attended a social event. Did you catch yourself hiding your teeth from others even when you wanted to laugh or smile? When your teeth are filled with imperfections, whether they be stains, chips, cracks or other issues, it can make smiling extremely difficult. After all, you don't want your teeth to become a topic of discussion with those around you.
With help from a cosmetic dentist in Colleyville, your teeth just might become a topic of discussion for positive reasons instead!
What Can Cosmetic Dentistry Fix?
It's no secret that cosmetic dentistry can improve your smile, but the range of possibility dental innovations bring forward is actually quite extraordinary. Both external and intrinsic stains can be removed and lifted with the help of highly concentrated bleaching agents via teeth whitening treatments. Tooth-colored crowns and fillings can restore and improve the appearance of teeth riddled with chips and cracks. Porcelain veneers can hide multiple imperfections at a time while still looking like a natural part of your smile.
However, it doesn't stop there. If you have multiple gaps in your smile, including your front teeth, hiding them is incredibly simple and straightforward via cosmetic dentistry. If you're missing teeth entirely, a bridge can help you fill the gap and make eating your favorite foods much easier.
The Social Benefits of Cosmetic Dentistry
When your smile isn't plagued with imperfections, it's incredible how much of a difference it can make in your daily life. People who receive veneers or a round of teeth whitening often report improved self-confidence and self-esteem. If you rely on your appearance for your work, improved confidence can make it much easier for you to do your job well. This includes improved confidence among your coworkers, not just the customers you may interact with on a daily basis. Research has suggested that those with attractive smiles are more likely to appear genuine, trustworthy and even intellectual.
As you become used to your new smile, you'll feel more comfortable at social events, both professional and for leisure.
A Path to Overcoming Trauma
For many, cosmetic dentistry is an outlet to help them overcome previous trauma. On the surface this may sound strange, but many people are born with defects that influence their smile, such as malformed or misshapen teeth. In other cases, they may have severely damaged teeth because of a traumatic experience with a previous dentist that left them too anxious or fearful to schedule future appointments. Additionally, people may have severe stains due to tetracycline antibiotic use or excessive exposure to fluoride during their youth.
By embracing a new smile, regardless of the treatment, cosmetic dentistry effectively becomes a key part of the healing process. Improving your smile can make you feel like you're regaining control and taking the necessary steps to move on in your life.
Are you ready for a full-blown transformation? Schedule an appointment to learn more about whitening, crowns and porcelain veneers in Colleyville today!
About the Author
Dr. Steven Branberg provides treatments for many aspects of cosmetic dentistry, including teeth whitening, fillings, crowns, bridges and veneers. As a prosthodontist, he's specially trained in the fabrication and placement of custom-made restorations. To learn more about his expertise or treatments, you can contact him through his website.
Comments Off

on How a Cosmetic Dentist in Colleyville Can Boost Your Confidence
No Comments
No comments yet.
RSS feed for comments on this post.
Sorry, the comment form is closed at this time.