November 9, 2018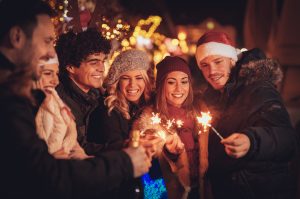 The holiday season is a time for gathering with family and friends to laugh, eat food and enjoy life. It's common to see cameras everywhere during this time of the year, as people scramble to capture memorable moments that will be cemented in time with photos. Therefore, it's also a great chance to address any smile flaws you have that may be hindering your self-esteem and negatively impacting your interactions with other people. Thankfully, your cosmetic dentist in Colleyville has solutions!
Why the Holidays are Perfect for Cosmetic Dentistry
It's common to have parties or other special events to attend during the holiday season. So the last thing you want is to have a camera thrust in your face that reveals your smile flaws.
The mere thought of having to navigate such situations can be daunting, but with the expert care of your cosmetic dentist, you no longer have to feel uncomfortable at a time of the year when you should be jubilant.
 There's a Procedure for You!
Not everyone has the same dental care needs, so it's important to work with a professional who can develop a full treatment protocol that is tailor-made to accommodate your smile needs.
Here are some of the available ways to make aesthetic improvements to your teeth:
Porcelain Crowns – For a severely damaged or diminished tooth, you may need a crown replacement. Typically made from high-grade porcelain, the restoration fits over your existing tooth to leave it fully functional and aesthetically-pleasing.
Teeth Whitening – Teeth stains can be embarrassing, and they can make the wrong impression at a first-time meeting. With professional teeth whitening, though, the troublesome stains can be removed from your enamel by using powerful bleaching agents that work faster and more efficiently than over-the-counter options.
Porcelain Veneers – Made from thin, ceramic shells, porcelain veneers in Colleyville provide a way to mask such flaws at gaps, crowding, misalignment and stains. The two-visit process leaves you with a completely new-looking set of teeth in the smile zone.
Tooth-Colored Restorations and Fillings – There once was a time when having a cavity filled entailed being left with a chunky metal fixture. With tooth-colored restorations, though, a composite resin material is added to the tooth to rebuild it to leave it more aesthetically-pleasing and in working order.
What's Required to Receive Cosmetic Care?
To receive the smile-enhancing care you need, the first step is to reach out to your cosmetic dentist to schedule a consultation. While you're there, the professional will perform a thorough examination to assess your current situation, and he or she will also take time to listen to your wants and desires.
The two of you will formulate the best treatment plan to suit your situation so that when you show up for the next holiday gathering, everybody will be admiring your beautiful new smile!
About the Author
Dr. Steven Branberg earned his dental degree from the University of Southern California School of Dentistry. He would later go on to become an assistant professor in the predoctoral clinic at U.S.C. Now that he is in private practice, Dr. Branberg combines his years of expertise with the latest technology to help patients enjoy the best versions of themselves. He practices at the DFW Dental Implant Center, and he can be reached for more information through his website.
Comments Off

on Your Cosmetic Dentist in Colleyville Brightens Your Holiday Smile!
No Comments
No comments yet.
RSS feed for comments on this post.
Sorry, the comment form is closed at this time.